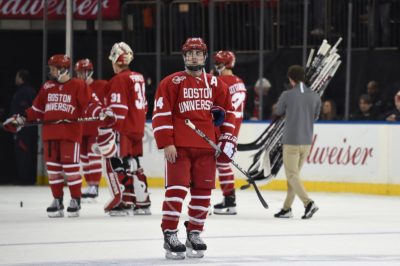 After dropping out of the top 20 in the USCHO.com rankings for the first time since the 2013-14 season, the Boston University men's hockey team has a ways to climb if it wishes to capture an NCAA Tournament berth.
However, the Terriers (6-8-1, 4-4-1 Hockey East) should have little trouble getting motivated to chase a pair of wins this weekend as they face No. 15 Boston College in a home-and-home series for the annual battle of bragging rights on Commonwealth Avenue.
"There is always an extra buzz when you are playing BC," BU head coach David Quinn said. "It's the best rivalry in college hockey. It's usually a tight game and someone has a goalie pulled. It's a very competitive, high-paced game."
The Terriers will travel west to Conte Forum for the series opener on Friday night before returning home to Agganis Arena on Saturday for the finale.
BU played BC (8-5-2, 8-1 Hockey East) on Jan. 13 and 16 last season, and outscored the Eagles by a 5-1 margin over two games.
"With us being big rivals, there is lots of history," sophomore defenseman Dante Fabbro said. "We're pretty excited coming into this one. It's going to be a crazy atmosphere. This week, you could feel the excitement with our team. We're eager to get out there and play."
Non-freshmen members of the Terriers' current roster enjoyed success in the team's shellacking of the Eagles last year.
In a 3-0 shutout of BC at Conte Forum in the second matchup, sophomore forward Patrick Curry scored the opening goal while junior forward Bobo Carpenter finished off the scoring with a goal in the third period. Junior forward Jordan Greenway was active in the contest as well, dishing out assists on the team's final two goals of the contest.
Carpenter had two assists in BU's contest against then-No. 7 Cornell University on Saturday night in front of 14,606 fans at Madison Square Garden, but it was not enough for the Terriers. BU fell behind 3-0 to the Big Red, putting themselves in a hole midway through the second period.
After a Cornell (9-1) goal with less than nine minutes in the third period pushed the deficit at 4-1, the Terriers staged a thrilling comeback. Sophomores defenseman Chad Krys and forward Patrick Harper scored 77 seconds apart from each other to decrease the gap to 4-3 with just under five minutes remaining.
However, BU was unable to find the equalizer, and left New York City with a move outside USCHO.com's top 20 imminent.
For the Eagles, a losing feeling is something they did not taste throughout the entire month of November.
After a 6-1 home loss to the University Denver on Oct. 28 put it at a 1-5-1 record, BC rebounded with a vengeance. The Eagles rattled off seven wins in a row before tying Harvard University 4-4 last Friday night in Chestnut Hill.
"There are different ways to win, and they have certainly done a great job of digging themselves out of the hole they were in early from playing a very difficult schedule," Quinn said.
BC now sits at the top of the Hockey East standings with a large lead. The Eagles' 16 points is five more than the second place team in the conference, Providence College, and they are the only Hockey East team without multiple in-conference defeats.
BC has been led by a youthful resurgence as four of their top five point-getters are underclassmen.
Freshman forward Christopher Grando leads the team in goals with five while fellow freshman forward Logan Hutsko has eight assists to lead his squad. The sophomore forward trio of Julius Mattila, Graham McPhee and David Cotton has been wildly proficient as well, combining for 29 points on the year.
"They are always good," Quinn said. "You can be good in different ways. They got a bunch of good lines. That's not easy to prepare for."