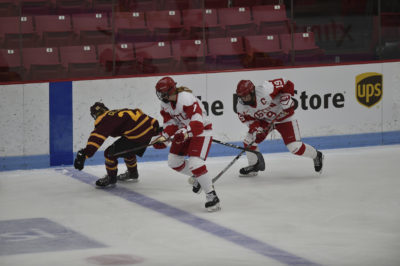 The Boston University women's hockey team will lace up their skates once again this week and head to Chestnut Hill, where they will start their home-and-home series against No. 2 Boston College. The teams will play at Conte Forum on Friday at 2 p.m. and then will head back to Walter Brown Arena for a Saturday afternoon matchup. These will be the second and third times BU and BC play each other this season.
In the teams' first matchup of the season on Oct. 28, the Terriers (6-7-2, 3-5-2 Hockey East) made a late push in the third period to try to tie the Eagles' (12-1-2, 6-0-2 Hockey East), who came out with a  4-1 lead. However, two goals in the last five minutes of play was not enough, sending BC past BU by one goal for a final score of 4-3.
In last year's home-and-home series, each team won on their home ice, mirroring each other's final scores of 5-3.
On Tuesday night, the Terriers faced off against Brown University. Three pairs of goals from senior forwards Rebecca Leslie and Victoria Bach, and freshman forward Jesse Compher led BU to earn a 6-4 win over the Brown Bears (1-10).
BU head coach Brian Durocher said the win against Brown is sending the team in the right direction, but even stronger play will be needed to match a dominant Eagles team.
"We're playing pretty consistent and playing pretty well, but obviously we're stepping it up a notch in the level of the opponent," Durocher said. "Boston College is a real good team, so we're going to have to be that much quicker, that much smarter, that much more assertive and certainly take advantage of our opportunities and really try to limit them."
In their past nine games, the Terriers have gone 5-2-2. The longest win streak the team accumulated so far was three games, with a pair of wins against the University of Vermont and then a 5-2 win over Minnesota State University the following weekend.
For BC, a loss this weekend would give the team its first Hockey East defeat of the season. The Eagles have beaten every conference opponent they have faced with the exception of two tied games against the University of Connecticut.
The only loss the team has seen so far this season came against St. Lawrence University, who plays in the ECAC conference.
BC is currently 7-0 on home ice, and on Tuesday night, the team defeated Northeastern University 7-3 after sophomore forward Caitrin Lonergan notched five points, consisting of a hat trick and two assists.
For the Terriers, Bach is one to keep an eye on this weekend.
After a slow start to the season, Bach has notched at least one goal in each of BU's last five games, with 12 goals over that stretch, including a pair of hat tricks.
For the Eagles, senior goaltender Katie Burt has been a constant in net, starting every game this season. She currently has a .921 goal save percentage for the season, with her season high of 43 saves occurring the last time BC played BU.
For Durocher, these rivalry games carry extra significance.
"We've had plenty of intense battles with them through the years," he said. "We meet them in the playoffs, the Beanpot, and the regular season. I think when the two teams face off in any sport, it's a big day, and I think hockey magnifies it. It's probably the place where the landscape's been pretty darn even over the years."