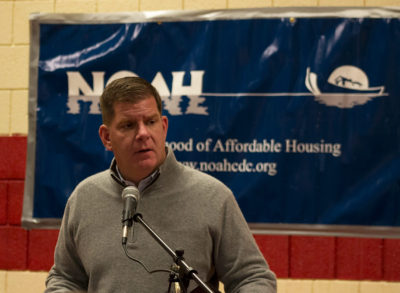 In an attempt to neutralize Boston's carbon emissions by 2050 and build on the city's Climate Action Plan, Mayor Martin Walsh announced the Carbon Free Boston initiative on Tuesday.
Through the Climate Action Plan, the City is working to reduce greenhouse emissions 25 percent by 2020 and achieve carbon neutrality by 2050, according to a press release from Walsh's office.
In partnership with the Green Ribbon Commission, Boston University's Institute for Sustainable Energy and BU's Earth and Environment Department, the City will be able to measure how actions, policies and technologies can reduce its greenhouse gas emissions, according to the release.
John Cleveland, the executive director of the Boston GRC, a collection of business leaders in Boston forming common approaches for resisting climate change, said 2050 represents a date that makes the most sense, as authenticated by scientists, in terms of potential environmental scenarios which could occur.
"When you look at the scale of things that need to be done, you have to basically decarbonize your entire electricity supply, you have to eliminate the use of internal combustion engines in the city which means you have to have all electric vehicles, you have to get rid of the use of natural gas for heating, etc." Cleveland said. "It didn't feel realistic to have that timeline be faster."
The initiative will run through three phases, the first being led by both the Boston GRC and the BU ISE to deliver reports to the City of Boston following an analysis of policies and strategies the City can undertake, Cleveland said.
Boston will be able to use the report to update its Climate Action Plan, a proposal which would provide detail regarding how the City plans to implement its emission reductions, Cleveland said.
"We really need a rigorous analytical model so we know which policies have which impact," Cleveland said. "We'll educate folks on it and then those stakeholders will be involved in the City's process to update its Climate Action Plan."
Cleveland said Boston's timeline is consistent with the state-level timeline, per the Global Warming Solutions Act.
Paul Kirshen, a professor of climate adaptation at the University of Massachusetts Boston's School for the Environment, explained the City's initiative is a virtuous step forward and the timeline is realistic and doable despite potential hitches.
"Controlling [greenhouse gas emissions] is the most important activity we have to do to manage climate change," Kirshen wrote in an email. "[B]ecause climate change will continue for centuries, we still must adapt or prepare for the changes."
Kirshen specified that the City's goal of achieving carbon neutrality by 2050 is lofty, but achievable.
"This is probably a realistic time frame," Kirshen wrote. "This will not be easy. But doable!"
Several Boston residents said they agree with the goals for Carbon Free Boston and are concerned what effects climate change will have on the planet.
Shivani Shah, 22, of Brighton, said it has become important for people to adapt survival tactics and build resilience to address the issue of climate change.
"Tsunamis and hurricanes are not just mere natural disasters, they are largely because of the increasing warmth around the globe due to carbon," Shah said. "I feel that the best we can do is reduce [climate change] and adapt for our better future."
Tariq Muhammad, 42, of Dorchester, said being efficient will be vital if the City plans to reach its goal by 2050.
"[The City will need] to use less heat, everything has to be more efficient," Muhammad said.
Jordan Bean, 24, of Back Bay, said climate change is becoming more apparent and serious as residents are realizing the tangible dangers which could take place.
"With the right resources and right commitment from people at the top, any initiative like this could work," Bean said. "But to the extent that something can be maintained through 2050 would be challenging."