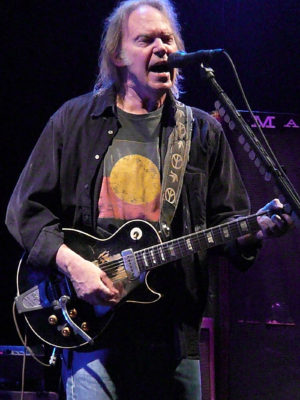 "I'm Canadian by the way / And I love the USA," sings Neil Young in "Already Great," the opening track on his new album "The Visitor." This opening statement sets the tone for a 10-track protest album with hints of humor, political commentary and personal experience.
"The Visitor" marks an interesting phase for the 72-year-old Young, who has always been famous for his social and political activism. Donald Trump's presidency has inadvertently led to a lot of great music over the past year, with many mainstream artists getting out of their commercial comfort zones to write songs that oppose the president.
But Young's voice has a particular power due to the fact that he has been contributing to the soundtrack of protest movements for decades. In 1974's "Vampire Blues," Young sang about his disgust that our natural resources are being depleted, likening it to a vampire sucking blood from their victims.
His concerns continued in 2015's concept album "The Monsanto Years," which criticized Monsanto, an agribusiness giant. His songs have covered everything from environmental concerns to policy-making on Capitol Hill.
Young has been branded as an individualist with no filter. In 2006, he released the brazen
"Let's Impeach the President," referring to George W. Bush. Impeachment was not an extremely popular viewpoint at this time, but that did not stop Young from delivering this searing attack.
Young's protest songs on "The Visitor" are strong, but in today's political climate and with Trump's extremely low approval rating, these songs actually present a fairly mainstream political opinion. The album still packs a punch, but it seems tamer considering the fact that he is appealing to a larger group of people who are just as dissatisfied with the political climate.
"When Bad Got Good," the album's weakest track, seems like an unnecessary addition to the album. The lyrics are unsubstantial and the backing chorus of voices seems overpowering.
"Change of Heart" is a sweet spot on the album, where Young reflects on his youth and the presence of hate and ignorance in the world. "Hate is not worth using / Even as cement," he sings alongside a soothing guitar rhythm. This track is a reminder of Young's artistry, which saves this album and gives it an added dimension.
Young is once again supported by backing band Lukas Nelson and Promise of the Real, which is led by Willie Nelson's son. The band adds a youthful spin on Young's sound while maintaining classic rock rhythms and driving beats that propel the tracks forward.
At times, the guitar and drums are a bit too busy and overpower Young's voice. In "Stand Tall" and "Carnival," the instruments are just as loud as Young's vocals, making it difficult to focus on the lyrics.
In contrast, the addition of a brass section in "Children of Destiny" is a welcoming change that adds definition and makes the song a memorable anthem. A beautiful string section accompanies Young during the verses, as he sings "Should 'goodness' ever lose and should 'evil' steal the day / Should 'happy' sing the blues and peaceful 'fade' away / What would you do?"
Overall, Young's musicianship remains solid on this album. The majority of the tracks are crafted with care and cater to his audience. He is one of the few artists who has been able to make himself relevant in the changing world through his globally-charged music.
This ability has been the key to his longevity over many decades. The addition of Promise of the Real adds a new element that modernizes Young's sound while maintaining a classic rock feel.
"Earth is like a church without a preacher" sings Young in "Forever," the album's most haunting song. The lyrics and melody accent Young's aging voice and years of experience in the album's most raw and honest track.
The 10-minute song contains beautiful imagery as Young looks back over his life, singing, "So I made my way down this highway." Young's career is far from over, but this track sounds like Young's purest form of reflection and appreciation for his successful life.
Young closes out the album singing, "That's how it ends in the beginning / That's how I plan to say goodbye / Leavin' bells just as they were ringing."