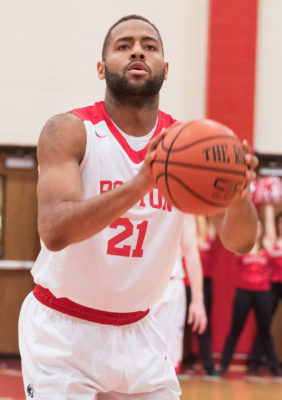 The Boston University men's basketball team put up a fight, but was unable to hand No. 10 University of Miami their first loss of the season Tuesday night, falling by a margin of 69-54.
"I'm proud of the way our guys fought," BU head coach Joe Jones said. "We scrapped. We really battled and competed. Hats off to them. They did a great job."
Despite receiving 12 points and four rebounds from sophomore forward Max Mahoney, the Terriers (3-4) could not overcome the 26 points from Hurricanes (8-0) freshman guard Lonnie Walker IV.
Playing without Boston native Bruce Brown Jr., Miami relied on Walker to lead them to keep their record unblemished. Walker knocked down five three-pointers on seven attempts while hitting nine of his 15 shots from the field to accompany his seven rebounds and two assists in just 28 minutes of action.
"You know going into this game that they are just so talented that someone has the ability to have a great game on their team," Jones said. "Tonight, Walker was terrific. He's a terrific player. He's an NBA prospect. That kid is a freshman?"
Sophomore guard Dejan Vasiljevic also starred, shooting 6-for-10 from the field and 3-for-6 from the three-point line en route to 15 points and five rebounds. Junior guard Anthony Lawrence II paced the Hurricanes offense, dropping six of his team's 10 assists.
Appearing in his home city, Terriers senior forward Cedric Hankerson failed to find any rhythm from the field. He was just 1-for-8 from three-point land and 4-for-17 overall, netting just 10 points in 33 minutes. Sarasota, Florida native, senior forward Nick Havener struggled to have an impact on the action as well, scoring just four points and grabbing two rebounds in 20 minutes.
Although the end result was disappointing, BU matched Miami step-for-step in the first half. With eight points from Mahoney and six from fellow sophomore forward Tyler Scanlon, the Terriers found themselves tied up with the Hurricanes, 30-30, after 20 minutes.
"We started to battle," Jones said. "Our guys are starting to believe that we can be a very good team. They are starting to listen. We are having a tough time getting our guys to compete to the level that you know they can play at. The last game we played, we really competed, and we were able to use that as momentum in this game."
After Miami jumped out to a 23-15 lead with almost nine minutes left in the first half, BU inched their way back into contention. Freshman guard Javante McCoy hit a three before Scanlon netted his first half point total on two quick threes to shorten the deficit to 27-24 with just over four minutes remaining.
A Vasiljevic trey made it a 30-26 game with 3:35 left in the first half, but a layup by freshman center Sukhmail Mathon and a buzzer-beating tip-in from Mahoney knotted up the game at the halftime.

Miami jumped out to a 7-0 run in the first two minutes of the final frame.
After a layup by Mahoney with 14:38 left in the contest, the Terriers trailed by eight. However, freshman guard Chris Lykes knocked down a three-pointer to give his team an 11-point lead. Then, Walker hit three-pointers of his own on the subsequent two possessions.
Just like that, it was a 55-38 game, pitting BU in an insurmountable hole.
"He made three or four shots that you can't defend," Jones said of Walker. "Hand up in his face, deep shots. He's making those types of shots, it's going to be tough."