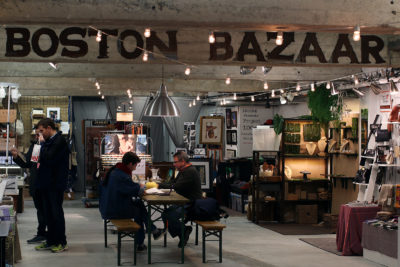 Between the chic stores on Newbury Street, the Boston Bazaar is a beacon for New England artisans to come together and create something beautiful.
Pop-up shops, in the modern day sense, became popularized in their current sense by fashion label COMME des GARÇONS, and its founder Rei Kawakubo, in 2004.
The bazaar is an open space with plain white walls and wooden floors, which allow the artisans' creations to shine and guide the customer as they go along. The artisans, who are on rotation for when they are in the store, are happy to talk to customers about their and anyone else's art, ready to showcase their talent to anyone who is interested.
There are 20 artists in the collective, all promising different handcrafted gifts, like leather handbags, handmade jewelry, chocolates, children's toys, illustrations and paintings. All the artists came together to split the rent for a coveted spot on Newbury Street and work the store as a team unit.
The group was brought together by Amir Zoka, one-half of the husband-and-wife team behind Shadan Design, which sells handmade jewelry. Zoka has been making jewelry for five years, but before he started he worked in the fashion industry.
Zoka started off in fashion working for corporations before he realized that corporations weren't really for him.
"I'm glad I'm not working for a corporation anymore," Zoka said. "It's a lot of work — physically, mentally and all of those things — but [I'm] a much happier person than before."
Zoka is not alone in his quest for more creative freedom. There are dozens of pop-up shops in Boston that boast artisan work as unique gifts, especially around the holiday season. The Boston Bazaar differs in that the artists are a group of friends, not strangers, who all pitched in to pay rent on Newbury Street.
Not all of the artists have been in the artisan market business for years. Eli Portman, an illustrator, graduated from the State University of New York at Binghamton in 2014, and has been doing the circuit for about two years.
Portman creates landscapes, usually Boston-based, with a metal tip calligraphy pens and bottles of India ink, and said he has been doing things like this mostly full time for close to two years. Portman said he believes many need nondigital art as an outlet.
"A lot of us have that innate need to work with our hands or make something or build something," Portman said. "I think there will always be that interest, even for people who don't do that as a career."
Many of the artisans involved in the pop-up shop get 40 percent of their income from around this time of the year, according to Zoka. Outside of the Bazaar, Zoka said he has three to four months off to travel and find inspiration, while Portman said he teaches classes and puts up his art in galleries when he's not at the market.
Looking like a glowing white beacon from the street, many customers have been drawn to the eye-catching store. However, to Margaret Kirchhoff, 45, of Portland, Maine, the store was something more than just a shop on the street.
Kirchhoff is an artist, and said knows the feeling of accomplishment when an artist creates something with their own two hands.
"It's rewarding, to me, to draw or illustrate at the end of the day," Kirchhoff said. "It's great to see these stores and see what the artists are creating because I know we all feel the same feeling of reward."