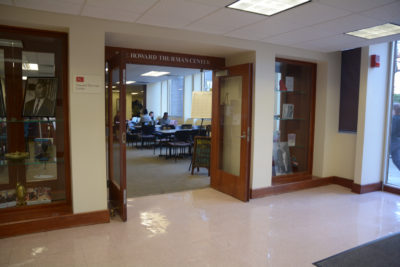 Fardowsa Abdulle said she hid her mental health struggles throughout high school, which she often felt intrusively intimate. Abdulle concealed such struggles from her immigrant parents, too, because she said they saw mental illness as an American concept.
When Abdulle came to Boston University, she quickly found friends who encouraged discussing mental health and who shared similar experiences to hers.
"Once you come to college and leave the environment you grew up in, you learn a lot of new things," Abdulle, now a junior in the College of Arts and Sciences, said. "It's one of those things that most people learn together, like coming to college, that's where I really started learning about what disorders meant."
Hoping to expand conversations about mental health, BU's chapters of the National Society of Black Engineers and the Society of Hispanic Professional Engineers worked with Student Health Service's Behavioral Medicine department to hosted "Mental Health in the Black And Latinx Communities" on Nov. 30.
The two groups decided to focus on mental health in the black and Latinx communities after discovering many similarities the two groups experienced with stigmas and cultural obstacles.
"We have a couple Latinx members; however, we don't, as a whole, really know much about the [Latinx] community even though we do think that our communities are very similar," Kevin Atkinson, a senior in the College of Arts and Sciences and the vice president of NSBE, said. "We thought that having SHPE would give us a different perspective."
Remi Shittu, a junior in the College of Engineering and NSBE's professional liaison, said she believes that although the issue of mental health affects communities differently, it applies to everyone.
"A lot of times we think that these cultural and ethnic communities can be very separate, but this is a very human issue and an issue that's prevalent on college campuses," Shittu said. "Having the two organizations together really supporting one another … really strengthens the intimacy … and [allows] people to know what is available for them."
The two groups reached out to Behavioral Medicine so that students who attended the event could learn about the various resources BU has. Before the event's discussion began, a Behavioral Medicine representative gave a presentation and outlined healthy ways to cope with stress, how to identify signs that a friend is struggling and where to go at BU for help.
Afterward, the attendees shared their experiences, and discussed cultural stressors like men embracing "machismo" in the Latinx community and masculinity in the black community. Many students agreed there was significant pressure to fulfill gender roles.
Abdulle said she learned a lot about mental health while at college, so those who cannot or did not go are at a disadvantage because they do not have the same access to information, and they may not be in an environment that is open about mental illness.
"I'm always interested in how to make things like this more accessible to people back home and poor people in general, especially the poor black people," Abdulle said. "So it just gave me more reason to talk about these things at home and share with my siblings and share with my parents."
Atkinson said he hopes that those who attended will feel encouraged and spread what they learned at the event to their loved ones.
"I feel like some people will get the courage to speak up and talk to their parents about mental health, but I know a lot of people just like to leave their elderly people in the dark," Atkinson said. "Our goal from the talk was to hopefully give people the courage to speak up to their parents because they're struggling just as much as us."
Atkinson added he hopes any students who attended who felt they must hide their struggles have a new attitude.
"As most people said, growing up with their own families, they're not really comfortable sharing it with them, so coming to BU they might not feel comfortable as well," Atkinson said. "I wanted everyone to understand that BU offers different facilities and services on campus that can help you as well as your fellow people around you are also here to help."