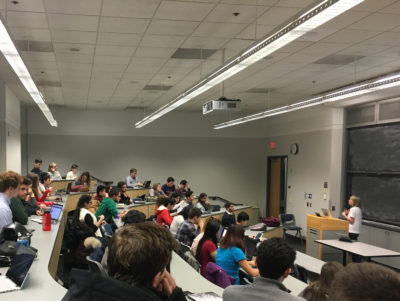 Boston University Student Government weighed in on the university's upcoming search for a new librarian and heard updates from a number of cabinet departments at its Senate meeting Monday night.
The meeting opened with a presentation from Tracy Schroeder, vice president for information services and technology, and Daniel Solworth, director of operations and chief of staff for the Dean of Students office, about the hiring process for a new university librarian. The current librarian Robert Hudson plans to retire at the end of the academic year, he announced in October.
Schroeder said the university is looking for a candidate who has a strong professional track record and an understanding of library systems in higher education.
"There are lots of possibilities if you look around the country at what libraries are doing at the best research institutions," she said. "We believe we can do more and better, and we're looking for a leader who can help us do that."
Schroeder asked the senators for their input on what characteristics a new librarian should have. They said a librarian should be approachable, be able to adapt to changing technology and envision updates to the library and champion open access and freedom of information.
Ultimately, senators decided to create an ad hoc committee that will provide student input to accompany the university's official selection committee, Senate President Octavio Vidal said. The committee will be voted at next week's meeting.
SG's Department of City Affairs presented a number of its accomplishments from the semester so far, as well as its future tasks.
Chair Alhassan Hashad, a College of Arts and Sciences junior, said his committee organized a meeting with the student governments from Northeastern University and Suffolk University about the creation of an inter-university council. City Affairs also reached out to Boston City Councilor Annissa Essaibi George about building a connection between university governments and the city.
In her weekly address, SG President SaraAnn Kurkul discussed a meeting she attended last Monday with campus leaders about the transition of the undergraduate student fee — which totals almost $2 million — to greater student control.
"We're looking to bring money back into student hands," she said after the meeting. "There's a lot of issues with [the current financial structure], and we'd love to revamp and update the policy."
Ibrahim Rashid, a junior in CAS, then asked senators for their endorsement of the Safe Communities Act — a bill currently being considered in the Massachusetts State House — which would limit cooperation between local police and federal immigration enforcement and prohibit the federal government from accessing data that could be used to create a registry based on race.
Rashid is in the process of organizing a coalition of Boston students called "Students for Safe Communities," which would raise awareness of the act and the issues it addresses.
"As students who are U.S. citizens, we have the obligation to stand up for our classmates to pursue an education without fear of deportation," Rashid said.
After hearing feedback from the senators, Rashid decided to table the request for SG's endorsement until next semester, when he has made greater progress toward forming his student coalition.
Several senators said they think student government now has a stronger voice with the introduction of new initiatives discussed in the meeting.
College of Fine Arts Sen. Daniel Collins said he appreciated the university's efforts in reaching out to student government for feedback on new librarian candidates.
"I was glad they came and talked. I look forward to actually [work with] ad hoc committees … and continue to be involved in the hiring process," Collins, a junior, said.
Andrew Chiao, a CAS senator, said he appreciates that SG aims to become more of a student-run body as opposed to an administrative one.
"Bringing it through student government will be a way to get diverse participation across colleges," the junior said.
SG member Maryann Lennon, a sophomore in CAS, said she hopes SG will reach out to student groups individually to gauge their thoughts about the new funding process.
"I feel like we can talk to student groups more one-on-one and see how they feel and the allocations of the money, how it's been dealt with in the past and how we can improve that in the future," she said.
Isabel Owens contributed to the reporting of this article.