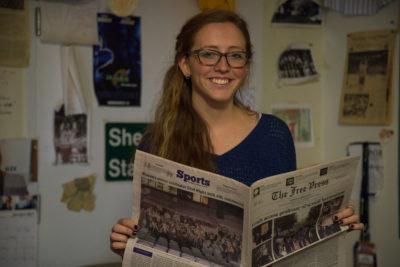 I walked into the dingy, yet homey, offices of The Daily Free Press over two years ago knowing I liked to write, but knowing nothing about how to conduct an interview, or how to write a lede, and certainly nothing about how to be an editor. This paper is where I learned firsthand about journalism — and the ever-changing field it is.
In name and in purpose, The Daily Free Press has remained largely unchanged. Starting in 1970, with its first issue following campus-wide riots that led to a university shut down, The Daily Free Press — Boston University's independent student newspaper — has been giving the students at this university a voice.
The Daily Free Press has also been informing students of what's happening on campus and around the city since its inception. And this semester was no different. We covered the largest donation the school has ever seen, a monumental merger, some beloved restaurant closings, the sudden stepping down of two deans and the sexual harassment charges against a former earth and environment professor — and that was just what happened on campus.
The Daily Free Press has been a beacon of student journalism for almost 50 years, and it's clear the paper has seen a lot of successes, along with its fair share of failures through the years. And this semester was no different — like when we tried to make some improvements to the website and ended up with a crashed site that now only works part of the time. But you know what? I don't regret it. Even though this has been a problem we've struggled with all semester, what I've learned in terms of how to stay positive when nothing seems to be going right, and how to handle unhelpful customer service representatives, is priceless.
As the field of journalism has been admired, attacked and everything in between this year, The Daily Free Press has adapted to the increasingly polarized and skeptical public. This paper has a tradition of change and improvement, and we worked to continue that legacy. This semester, we strived to become more agile online and find stories that oftentimes go unnoticed on this massive campus.
This semester, in our goal to make the paper more accessible to our audience, we brought Snapchat Publisher Editions to campus. Switching from writing about criminal justice reform and the Wheelock-BU merger to student party tricks and the best meme page posts of the week was exactly what we needed after a long night. But writing was only part of the battle. The animators and illustrators that stuck around have done incredible work that leave me breathless every week.
Although the Publisher Edition is one of the most widely publicized changes we made, there were countless improvements made this semester. Every editor and writer worked to improve their own sections — by writing more stories in news every day, streamlining communication between features editors and writers, making the opinion pages pop with cartoons and column names, thinking beyond just game recaps and previews in sports, increasing the number of photo galleries we publish, rethinking every design aspect in print, recording professional and fascinating podcasts and sharing the Snapchat Publisher Editions with the BU community. I'm amazed by and grateful for all of the editors this semester who weren't afraid to not only ask why, but why not.
No matter the difficulties we faced, the sleep we missed or the classes we neglected the journalists this semester continued the legacy of those who came before us — including those late-night Uburger and City Co. runs — while not being afraid to be daring. And no person pushed me or this semester's editors further than the hard-working, humble managing editor — your creativity transformed this paper, Elise.
In trying to bring small changes to the paper, it changed me entirely. I thought being a writer meant knowing the words to describe what I'm feeling, but no words can describe how thankful I am for the paper and people who have taught me everything I know about journalism.
I'm humbled to have worked for the same organization that so many great people have labored for since 1970, and it feels weird saying goodbye. But, it's time for change and for new, bright-eyed journalists to continue bettering BU's independent student newspaper. I'll be cheering you on.