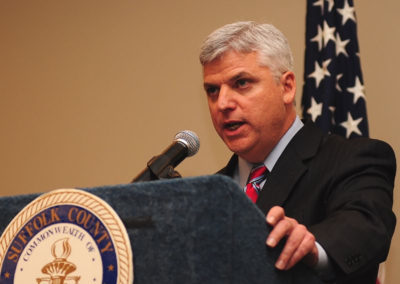 Project Veritas, an organization specializing in undercover exposés led by conservative political activist James O'Keefe, filed a lawsuit against Suffolk County District Attorney Daniel Conley in federal court over the Massachusetts law that prohibits the unpermitted recording of conversations.
The investigative journalism nonprofit was exposed by The Washington Post last week for colluding with a woman who falsely claimed that Alabama Senate candidate, Roy Moore, had impregnated her as a teenager.
The organization is now focusing its efforts on a First Amendment challenge against the Massachusetts interception statute, which prohibits a person from "secretly hear[ing], secretly record[ing], or aid[ing] another to secretly hear or secretly record the contents of any wire or oral communication."
In the lawsuit, Project Veritas wrote it desired to carry out similar undercover work in Massachusetts. The group's primary goal would be to secretly record interactions with Boston government officials on immigration policy and deportation, not only to better understand their positions, but to eventually share this information with the public to "better educate" them, according to the lawsuit.
This motive, Project Veritas wrote in the lawsuit, is undermined by the Commonwealth's interception statute, something they believe to be a violation of their First Amendment rights as a U.S. organization.  
Stephen Klein, the attorney representing Project Veritas Action Fund in federal court, said this statute is "uniquely broad" and susceptible to free speech and free press challenges.
"It's an unconstitutional law," Klein said. "I believe the laws of other states show the right balance of privacy and the free press. Here, the law prohibits secret recording, even in public. The law has to be scrutinized for censoring this activity."
Klein said it is likely the case will be appealed to the First Circuit Court of Appeals and, from there, possibly the U.S. Supreme Court. He said Project Veritas has a strong case, despite the organization's unfavorable reputation in the media.
"People may have knee-jerk reactions to this case, based on whether or not they like the work of Veritas," Klein said. "But, I believe most Massachusetts citizens would object to being charged with a felony for secretly recording a police officer during a traffic stop, or for having their child secretly record bullying at school, or in any number of other situations where secret recording is unequivocally helpful."
Alan Bishop, a private investigator in the Greater Boston area and executive director of Street Smart Security Consultants, said he found Project Veritas's intentions in this lawsuit concerning.
"The law was designed to protect people and promote free speech, which are important basic rights," Bishop said. "Massachusetts is a two-party state with regards to recording calls, so the caller has to be told up front that they're being recorded and anything else is totally illegal."
Bishop said it is a necessary privacy to inform people of when they are being recorded.
"[Unpermitted recording] infringes on people's rights to privacy … and violates their Fifth Amendment rights," Bishop said. "It could also negatively affect how law enforcement officers resolve criminal cases and protect the public."
The removal of such a law that criminalizes the unpermitted recording of conversations, Bishop said, would undermine the precautions private investigators and police officers take to protect their witnesses.
"It would basically eliminate the ability to have discussions and interviews with people," Bishop said. "The bigger issue would be the potential of placing someone into great harm. Someone who was talking to someone or having a conversation that was nefariously recorded and revealed could place someone into harm's way from opposing views or organizations."
Several Boston residents said they were fearful of the effect Project Veritas might have on local politics if it were to win the lawsuit.
Beth King, 32, of South Boston, said she believes Project Veritas wants the Massachusetts interception statute removed for selfish reasons.
"They're conniving scum," King said. "Trying to tear apart all civility left in our system and pin people against each other with defamatory recordings taken out of context and turn empowering things like the #MeToo movement into a nasty witch hunt that perpetuates their unpatriotic agenda."
Neil Jameson, 69, of Beacon Hill, said he feels nervous about the prospect of unregulated secret recordings and always wants to know when someone is recording his comments.
"That stuff really scares me in this day and age where everyone has recording devices on their person at all times," Jameson said. "It makes me feel like I always have to watch my mouth and that fear would be even greater if anyone could legally record anyone at any time and potentially use it against them."
CORRECTION: A previous version of this article included a factually inaccurate quote from a Boston resident, and the quote has been removed. The current version includes this omission.