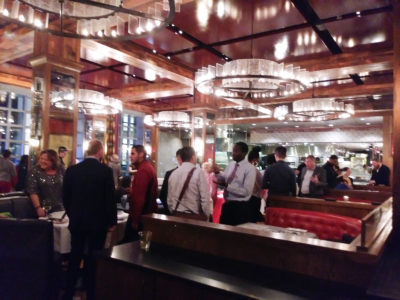 At least 100 Boston millennials gathered Monday evening in the spacious top-floor restaurant of Back Bay's Towne Stove and Spirits to learn more about entering Boston's housing market at SPARK Boston's Millennial Homeownership Open House.
SPARK Boston is an organization that works to educate young people about the opportunities for housing within the city, Amy Mahler, the director of SPARK Boston, said. The panel featured a presentation by representatives from the various fields involved with the homeownership process and booths where attendees could speak with mortgage companies, banks and other homeownership or rental organizations.
"We try to help people see all the different parts of Boston they could live in but also want to make it as easy as possible for people to understand their options within the city of Boston to become a homeowner," Mahler said beforehand.
Mahler said it is important for millennials and other first-time home buyers to be aware of financial programs that could help them afford a home in Boston including housing set aside for people who are in uncertain income brackets or who make less than $82,000 a year.
"You could be missing out on a big opportunity to become [a] homeowner during a time period that is helpful to you," Mahler said.
All the bankers and lenders at the open house were in good standing with the City of Boston, Mahler said. She thought this might bring a sense of security to attendees who might still be nervous about entering the housing market after the crash in 2008.
"Especially after the recession and the housing bubble, people can be understandably a little skittish about the environment that we're in right now," Mahler said. "Helping them [has] a certain level of comfort or at least faith of a better understanding is incredibly important as an organization that's supposed to be helping millennials live their best lives in the city."
Mahler ran the event hoping residents would become less uneasy about the idea of owning a house and learn enough about the homeownership and rental processes to begin crafting plans.
She encouraged millennials to "shop around" for homes, mortgage lenders and realtors, emphasizing the importance of having lots of choices in all aspects of life, whether buying a house, buying a car or applying for a job.
Mahler stressed the need for residents to be involved in their communities in her presentation.
"The number one way that elected officials can hear from constituents, and that they do hear from constituents, [is] public events," she said, and reminded attendees if they did not go to these public events their voices would not be heard.
Marcy Ostberg, director of the Housing Innovation Lab, spoke during the presentation on the need to develop, fund and design affordable homes differently.
"There's new technology and systems that can help us build more quickly and efficiently to maybe bring the price down," Ostberg said. "We have less and less money coming from the federal government and state government to build affordable units so we need to be creative with our money that we do have and how we can build … people are living in different ways."
Several Boston residents said they benefited greatly from the information provided at the open house.
Neel Desai, 23, of the South End, said he attended the open house due to his interest in navigating the homeownership process. He said he found the format of the open house presentations very helpful.
"There are so many resources online it's hard to not be confused by all the information," Desai said, adding he enjoyed being able to go around and talk to real people.
Alessandra Brown, 32, of Hyde Park, said she came because she was looking to purchase a two-family home within the next year and would not be able to do so without the financial programs provided by the City.   
Brown had taken the home buying course offered by the Boston Home Center, but said the open house was a better introduction to the housing market and suggested that it be offered to people outside the 20 to 34-year age range as well.
"This could be a good introduction," Brown said. "I think it was helpful but it was very overwhelming … I feel like I should have as much info as possible."
Ivana Bikombe, 25, of Brighton, said she attended the event because she wanted to learn how to begin saving up to buy a home.
"I've never had that experience of living in a home," said Bikombe, whose parents are immigrants. "I do want to own a home and I do know I need to start now."