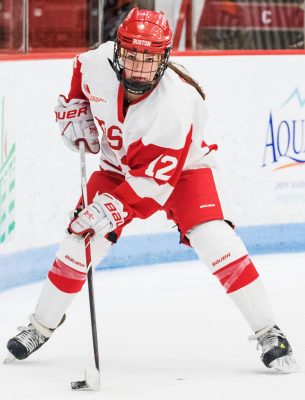 The Boston University women's hockey team traveled to Arlington, Virginia over the weekend to play Minnesota State University, Mankato and the No. 1 University of Wisconsin-Madison. The Terriers (5-7-2, 3-5-2 Hockey East) notched a 5-2 win on Friday against Mankato (2-13-1), but fell to Wisconsin (17-1) 4-2 the following day at the Kettler Capitals Iceplex.
"It was nice that we can play three pretty consistent periods, probably actually six consistent periods," BU head coach Brian Durocher said. "If you go all the way back into the UVM game, we've had a pretty good run here with three wins out of four on the road and getting multiple players playing pretty darn well."
Over the weekend, senior forward Victoria Bach notched a hat-trick in the first contest and the Terriers' only two goals of the following game. The Milton, Ontario native has collected 10 goals and two assists in the past four games.
Senior forward and captain Rebecca Leslie also provided the primary assist on four of Bach's goals. The captain has collected three goals and eight assists in the last four games.
Bach and Leslie lead the team with 26 and 23 points respectively while junior forward Mary Grace Kelley, junior defenseman Reagan Rust and freshman forward Jesse Compher are tied for third most points on the team with nine each.
Durocher noted that this offensive depth is "super important."
"It has to go down the line that we have more than two people doing the job because there are going to be nights where teams really focus on them and shut them down a bit," Durocher said.
Bach got BU on the board early with a tally at 6:43 in the opening frame. Mankato would come back to knot the game at one. Bach found the back of the net 20 seconds later off a pass from Leslie.
In the second period, senior forward Nina Rodgers scored twice to put the Terriers up 4-1, with help from Compher on each. However, the goals wouldn't stop there in the frame, as Maverick forward Corbin Boyd converted on a power play.
Bach capped BU's win with 13 seconds remaining in the frame as she got the puck past Mankato's junior goaltender Katie Bidulka, collecting her second hat-trick in three games.
"I think structurally they're playing pretty sound and competing pretty hard and that's all you can ask for," Durocher said.
The following day against Wisconsin, Bach started the game once again with a goal 32 seconds into the matchup. Kelley got the puck near the blue line before Leslie pushed it up the ice to Bach.
Four different Badgers went on to score in the game. After forward Alexis Mauermann tipped in Wisconsin's third unanswered goal at 13:26 in the final frame, Bach responded with her second goal of the game 1:21 later.
Sophomore defenseman Breanna Scarpaci passed the puck to Bach in the Terriers' offensive zone, who sent the puck to Leslie before getting it again to send the puck past the Badgers' redshirt sophomore goaltender Kristen Campbell.
Bach currently sits second in the nation in goals with 15.
While BU got the score within one, redshirt senior forward Claudia Kepler doubled Wisconsin's lead with three minutes and 10 seconds left in regulation for a final score of 4-2.
Despite letting in four goals, freshman goaltender Corinne Schroeder made 31 saves and 29 the previous afternoon. She currently boasts a .937 goal save percentage and 1.86 goals against average over nine games.
Durocher said although Schroeder is in her first year at BU, it doesn't hinder her high level of play.  
"It really doesn't have anything to do with young, it just has to do with being consistent, being reliable and really playing a little above those standards," Durocher said. "She's been right up there around 940 on save percentage all year and played very well both games this weekend."
The Terriers also shut down both of the Badgers' power plays and went one-for-five on its penalty kill against Mankato.
On the other hand, BU went one-for-nine on its own power play over the weekend and has a .179 power play conversion percentage.
"Last weekend and this weekend we had a good run," Durocher said of the penalty kill. "A lot of it was we were worrying too much about where we were supposed to be rather than doing the blue collar things like getting in the shooting lane and picking up sticks when they shoot."