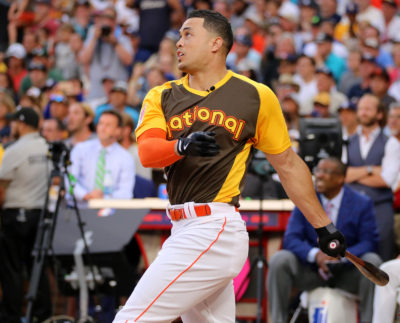 Things are quiet. Too quiet.
The 2017 World Series ended over a month ago, and Major League Baseball has hit a lull. The excitement of the offseason should kick into action next week at baseball's annual Winter Meetings, Dec. 10-14 in Orlando, Florida.
But until then, we wait.
It makes sense that the baseball world has slowed down. Teams are taking time to assess their needs, consider options and prepare to make offers to free agents and trade partners.
That being said, the league has been exceptionally silent. The biggest free agent signing thus far has been Doug Fister. Unless you follow baseball religiously or watched the Red Sox's final month, you've probably never heard of Fister. It's been that slow.
One trend I have noticed over the past few weeks, which undoubtedly has contributed to the inaction across baseball, has been the exceptional power given to just a couple players, namely Giancarlo Stanton and Shohei Ohtani.
In my opinion, it's too much.
Let's start with Stanton. The 2017 National League Most Valuable Player has been at the center of trade rumors for years. Despite a monster 13-year/$325 million contract, which has a decade remaining, Stanton is a hot commodity. His power is rare — he's coming off a 59 home run, 132 runs batted in season. He's only 28, and showcases a strong arm and glove in the outfield. He's good, no doubt.
But the dynamic that has arisen is quite odd. Because Stanton has a full no-trade clause in his contract, he essentially has the authority to control his destination. As such, the Miami Marlins have agreed to a framework for a deal with both the St. Louis Cardinals and the San Francisco Giants, and are basically awaiting Stanton's decision. There are also reports that Stanton may be eyeing a potential deal with the Los Angeles Dodgers.
I know Stanton is good and all, but why does he have so much power here?
Stanton is an athlete. He signed a contract to play for the Marlins, and he has an agent, general manager, and owner who control his salary, playing time, and ultimately, his livelihood. I understand the idea behind a no-trade clause. But the dynamic of the player dictating where his team trades him is bizarre. It shouldn't be his decision.
In a similar vein, the sweepstakes that have ensued surrounding 23-year-old Japanese free agent Shohei Ohtani also perplex me.
Ohtani is a two-way player, meaning he both pitches and hits. In today's game, that makes him quite valuable and unique. He's a special talent who will earn a good paycheck. But the clasp he has secured over the league is excessive.
Because of the complex system of signing international free agents, a contract with Ohtani would be paid out of teams' international signing-bonus pool money, which places limits on teams not willing to pay a fine if they exceed the limit. Ohtani has until Dec. 22 to sign, and given the incredible interest he has generated, he has gained quite a bit of power in the last month.
Like Stanton, Ohtani is letting teams come to him, present their case for why he should sign there, and then making us all wait for a decision. He has reportedly narrowed down his options to seven remaining teams. The Sox and Yankees are already out.
What has gotten into baseball executives? Sure, Ohtani is an uncommon prospect. But he's a 23-year-old who has never played a second of professional American baseball. Why are teams giving him so much leeway to manipulate them? I don't get it. It's become like a reality show.
My personal qualms aside, the baseball hot stove should finally heat up next week at the Winter Meetings. It's where baseball's biggest trades and signings go down –– last year, the Red Sox pulled off a trade for ace Chris Sale. There never seems to be a shortage of excitement when all of baseball's agents and executives cram into one hotel all together.
In the meantime, we'll just have to wait, while billionaire owners let two players, one with a scary contract and one with no experience, push them around. Baseball is a weird sport.