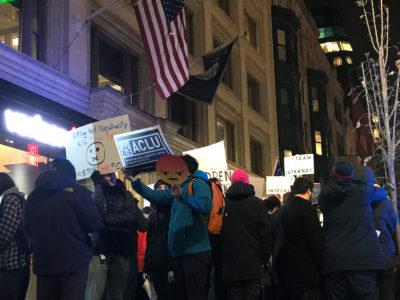 Several hundred people gathered outside of the Verizon store near Copley Square Thursday as part of a nationwide protest against the current Federal Communications Commission chair and former Verizon lobbyist Ajit Pai — who recently proposed repealing Obama-era net neutrality regulations.
The Boston protest was one of 700 similar demonstrations occurring nationwide, Nina Vyedin, an organizer with Indivisible Somerville, said prior to the rally. The event was organized by Vyedin's group, Fight for the Future, Demand Progress and the Massachusetts chapter of the ACLU.
Vyedin said she believes repealing net neutrality will likely not have a huge effect on Boston, but will be more impactful in areas with lower concentrations of internet service providers.
"There's enough competition in places like Boston with internet service providers," Vyedin said. "I think that for us, they will likely still be doing it kind of the same way. I don't think they're going to have much luck trying to partition it off into packages right away — where it's really going to hurt is areas that don't have a lot of competition."
At the protest, people held signs with slogans such as "GOP rigged the FCC" and chanted things such as "Whose net? Our net," "The internet is not for sale" and "The people connected will never be defeated."
Vyedin said during the protest net neutrality allows people to have an open place to communicate and share their ideas.
"Net neutrality means having the chance to say what we want, it means having the safety to build the ideas we want to communicate to each other," Vyedin said. "We need the tools that allow us to talk safely. If we lose our tools, we lose our ability to share and talk together."
Evan Greer, campaign director for Fight for the Future — a digital rights focused nonprofit advocacy group — said she thinks congress must be held responsible for the repeal of net neutrality because net neutrality is not "dead" yet.
"Our members of Congress provide critical oversight authority for the FCC," Greer said during the protest. "It is their job to step in when a federal agency goes rogue when it starts working for the corporations it's supposed to be overseeing. If the FCC votes to kill net neutrality on Dec. 14, forget about the FCC, don't blame them — blame Congress."
Greer said net neutrality is a bipartisan issue and that Republican legislators are not listening to their constituents — even though statistics show that people from every party support current net neutrality regulations.
"The Republican party has misjudged their base on this issue and they know it," Greer said.
Several protesters at the rally outside the Verizon store shared their personal reasons for protesting the possible repeal of net neutrality.
Cassidy Sulaiman, a graduate student at Emerson College, said showing up to voice opinions at protests like this is vital.
"It seemed like the best chance I had in making a difference in this fight," Sulaiman said. "I know that the impact I have here might not be that much but I'd be kicking myself for the rest of my life if I didn't show up. I felt like a peaceful protest and a coordinated event is a good way of getting people's attention."
Luke Pezanko, 30, of Cambridge, said net neutrality is important because the free internet facilitates communication between people and allows small businesses to succeed.
"It's really important for everybody to be able to have a neutral environment to speak to," Pezanko said. "I mean nowadays, the internet is communication — that's how everybody speaks to each other — it's pretty vital and important. Innovation has expanded because of it. If it's eliminated, small businesses can't thrive the way that they have been."
Kate Whitecar, 23, of Brighton, said net neutrality is important to her personally because of her experience studying in technology fields in college.
"I didn't go to school for five years studying computer science and graphic design and working for multiple startup companies to kind of have everything kind of crumbling down a year after I graduated," Whitecar said. "I'm just trying to do what I can to help protect net neutrality because it's really important to me and I think it's really important to just democracy."
CORRECTION: A previous version of this article used incorrect pronouns for Evan Greer, the campaign director for Fight for the Future. The updated version reflects this correction.