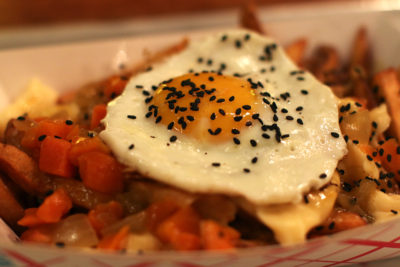 Walking into Roxy's Grilled Cheese in Allston on Thursday night, one might expect to find their everyday grilled cheese menu. If they did, they would be pleasantly surprised by a kitchen filled with chefs from both Roxy's and Moyzilla — a food truck featuring Asian street food and dumplings — collaborating for a pop-up menu mashup.
Roxy's Grilled Cheese in Allston is famous for its delicious and unique takes on an American favorite, but on Dec. 7, Roxy's held a pop-up menu mashup with Moyzilla. It's known for its contemporary take on classic Asian comfort food, which led to the best of both menus coming together to create original masterpieces.
The menu included influences from both restaurants, featuring fusion dishes like
"Justin's Burger Dumplings," which contained angus beef, cheddar cheese, sriracha aioli, tempura onion strings and scallions.
They also had "Mighty Rib" spring rolls: filled with BBQ braised short rib, caramelized onions, muenster cheese and gochujang aioli.
A chicken Karaage grilled cheese featured melted cheddar and havarti, Japanese fried chicken, pickled cabbage slaw, Sriracha mayo and crispy onions. In addition to the food, they had a fusion drink menu, featuring a "Shandy" with ginger lemonade and Sapporo.
Roxy's started out as a food truck, and then established their first brick-and-mortar restaurant in Allston in 2014.
According to Nicole Losada, general manager of Roxy's, representatives of Moyzilla contacted the grilled cheese establishment with the idea of collaborating.
"We did half [of the menu] and they did half," Losada said. "We created the Katsu Curry Poutine — that was us because we have poutine on our normal menu, so we kind of wanted to add some Asian fusion to the poutine we already do."
"We thought it'd be really cool," said Jonathan Moy, owner and head chef of Moyzilla. Moy cooks on the truck with his father, who comes up with a lot of the featured recipes.
"We work together with Roxy's a lot out on the food trucks," Moy said. "We wanted the best representation of their menu and ours."
Moyzilla is currently only has a food truck, but hopes to open a permanent restaurant soon. Cooking in Roxy's kitchen gives them "a chance to explore culinarily," Moy said.
Moy said that coming up with their menu mashup ideas was "actually really easy."
"We've done cheeseburger things before, but we've never used Roxy's pimento cheese," he said.
As the winter season gets colder, the food truck business slows down, so Moy said he hopes to do more crossover events like this one.
Jay Schwartz, 25, of Boston, attended the menu mashup after seeing the event on Facebook. He and his two friends, one of whom was James Trubiano, 28, also of Boston, had a table and were trying every dish on the menu.
"I had to come — this is a combination of my favorite food trucks," Schwartz said. The group favorite of the table was the spring rolls, "but the grilled cheese with the chicken on it [Chicken Karaage Grille Cheese] was the best," Trubiano said.
"It's a cool way to see mix-menu stuff," Schwartz said.
"So far, so good. It was a slow start, but that's kind of Allston — it picks up later in the night as people decided to go out," Losada said.
Losada said Roxy's Grilled Cheese hopes to continue doing menu mashups with different food trucks at least once a month.
"The Boston food truck community is such a tight knit close community, so we like to collaborate with other trucks as often as we can," she said.