By Hannah Schoenbaum, Noor Adatia and Isabel Owens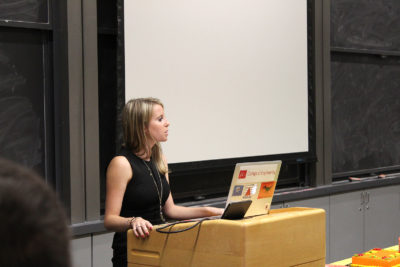 As Boston University approaches the year's halfway point, BU Student Government officers reflect on their progress, noting a stark improvement from last year.
Last spring, Your BU — whose members comprise the current executive board — ran on a platform of transparency, community and sustainability. They also wanted to reconnect SG with the student body — fostering a strong, cohesive community — and hopefully, get a student on the Board of Trustees.
SG Vice President Piergiacomo Cacciamani said transparency has improved within SG through frequent Facebook updates, consistent emails between the Senate and cabinet members and increased interdepartmental communication.
However, The Daily Free Press, which reports on SG meetings each week, was not notified of two Senate meeting postponements on Oct. 30 and Nov. 27 until the time of the meeting. Additionally, Cacciamani said a new SG policy mandates interview requests with executive board members must go through their communications department, but this policy was not communicated until late last week.
Nonetheless, veteran College of Engineering Sen. Nehemiah Dureus said this semester has been "a world of difference from last year," the junior wrote in an email. Although, he did say that SG could've been more productive this year.
"Student [G]overnment was so amazingly disorganized and unproductive last year that just doing anything this year would mark a stark productive difference," Dureus wrote.
He noted that this semester, he was able to mentor his co-senators from ENG and collaborate effectively on initiatives. He was most pleased with the approval of the BU Shuttle Improvement Proposal, which he thinks "has real potential to make change and impact across campus."
Another SG success was gaining the capability to allocate funds through the Student Activities Office, according to Cacciamani. He said he thinks this is SG's greatest accomplishment in the last decade.
"Our main priority here is that every student community and group on campus will have enough to run their events in a proper way," Cacciamani said.
Since SG has been focusing energy on student-oriented initiatives, members neglected less-immediate goals. For instance, last spring, SG approved a proposal that would send student body representatives to sit in on Board of Trustees meetings. This initiative has not been followed through this semester.
"I think being able to give students the funding they deserve so they can run initiatives on campus properly is slightly more important than having a member on the [Board of] Trustees," Cacciamani said. "The amount of work to get the administration to like our idea was very complicated."
This semester, SG sought to give smaller communities a voice in campus politics through the introduction of 10 at-large seats in Senate, he said.
"We have at-large senators that are representing different communities on campus and different ideas," Cacciamani said. "They're doing an amazing job, and they're very proactive in meetings."
Still, he said he thinks there is much to be done to improve SG's engagement with the student community.
Another accomplishment, he said, was the introduction of the Department of Environmental Affairs book swap, which allows students to donate and exchange textbooks to decrease paper waste and unnecessary student spending.
Moving forward, Cacciamani said the executive board's priority is to improve gender-neutral campus housing.
More senators shared their thoughts on the fall semester's progress and their hopes for the second half of the year.
This semester, College of Arts and Sciences Sen. Brittany AuYoung has buoyed SG's social media presence in an effort to keep students in the loop about SG's activities and plans.
Auyoung, a sophomore and a member of department of communications, said her only criticisms this semester were a lack of participation from certain senators and unnecessary pushback on specific student initiatives that should have been passed immediately.
The most effective initiative she has seen was Divest BU's Climate Action Plan proposal, which outlines steps to convert BU to 100 percent renewable energy by 2040.
"I think that's something we definitely should work towards and it's good that we are because we are such a big school and we can make this level of commitment and that's amazing," AuYoung said.
Daniel Collins, a College of Fine Arts senator, wrote in an email that there are some areas of SG that still need improvement, including communication and attendance. But these problems are though persistent and are in a much better state than they were last year.
He said much of SG's work so far has been in preparation for next semester, especially in assuming SAO's allocation role.
"This is an exciting chance for [SG] to play a large role in student life on campus," Collins, a junior, wrote. "Much of our activity this year has been focused on clearing the way for these new duties, particularly consolidating cabinet and standing committees and amending the constitution."
"Next semester should be quite exciting," he wrote.