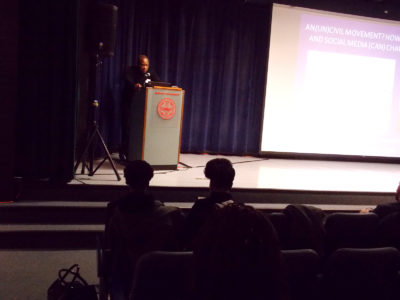 Race, politics and social media — three of the hottest topics of the day — were discussed in the context of African-American history at Boston University Friday afternoon.
Louis Chude-Sokei, the director of the African-American studies program, said social media is changing how people discuss diversity, an issue at the heart of African-American studies.
"It's not so much about African-Americans, but really about how Americans engage their own diversity and their own cultural complexity," Chude-Sokei said before the symposium.
The symposium was held at the George Sherman Union Conference Auditorium, and about 30 students and faculty members attended. The symposium began with presentations by BU professors Jacob Groshek and Robert Eschmann.
Groshek, a professor of emerging media studies in the College of Communication, spoke about how mobile devices and social media impact social discussion.
"It is changing the implications of what's being said and how the tenor of communication can often deter people from participating in a meaningful way," Groshek said.
Eschmann, a professor in the School of Social Work, discussed how social media enables students of color to better respond to racial "microagressions."
"In online counter spaces, students of color are more at risk of being exposed to overtly racist ideologies, but also have access to a unique set of tools that can identify and counter these ways of thinking about race," Eschmann said.
Conversations about race can take place online in a way that they cannot in person, Eschmann said.
"People seem unwilling to listen, and people usually, in person, like to deny that there is a race issue," Eschmann said. "Not talking about race reinforces white colorblind norms and maintains campus social spaces as being dominated by white cultural norms."
The second session featured talks by Aleia Brown, program manager for the Humanities Action Lab, an organization dedicated to creating projects that tackle social issues, and Desmond Patton, a professor of social work at Columbia University.
Brown talked about how she co-founded two social media projects on race: #MuseumsRespondtoFerguson and #BlkTwitterstorians.
Brown said museums were initially reluctant to address Ferguson because they saw it as an anomaly, not part of a recurring pattern throughout history.
"Ferguson is not just one place," Brown said. "As we saw, within the next coming years, the same thing happened in Baltimore and the same thing happened in Beavercreek, Newark, Watts. You can go through the continuum of the United States' history and see that this is not just restricted to Ferguson."
Brown said #MuseumsRespondtoFerguson shifted the perception of what museums can be.
"People don't typically think of museums as spaces that challenge white supremacy and spaces that celebrate black women leadership," Brown said. "We were not only just filling a void, but also projecting the future of what we want museums to look like."
The symposium ended with a roundtable discussion and a presentation by feminist social media personality Feminista Jones, who spoke on both social media's utility and its drawbacks.
"Social media is a powerful tool when used properly," Jones wrote in an email before the symposium. "It should be used for good and more people should focus on leveraging it to change the world."
Jones wrote that college students have a unique chance to use social media to do good in the world.
Several students who went to the symposium said they thought learning about social media's role in today's racial environment was relevant and illuminating.
Hansika Ramchandani, a College of Arts and Sciences senior, said she found the context and background of social media research interesting.
"Seeing how much research is being done was enlightening … and how educational Twitter can get," Ramchandani said.
Ashley Gordon, a CAS junior, said she felt the symposium recognized an aspect of social media that largely goes unnoticed.
"I feel like this is very much a topic … that doesn't get talked about outside of certain marginalized communities," Gordon said. "This is a great way to get the topic out to anyone who's interested or feels like they don't know enough and wants to come in and learn more."
Godwin Nnanna, a second-year graduate student in the School of Theology, said he thinks these discussions about race and politics are crucial in today's society.
"Who'd be pretending to think that we are, like some have suggested, in a post-racial America now?" Nnanna said. "Race is still a fundamental issue."