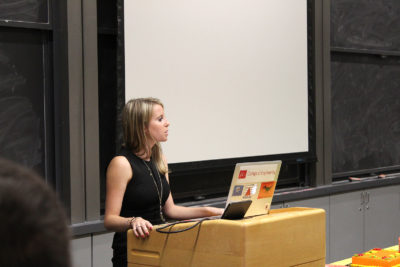 Dean of Students Kenneth Elmore and University Provost Jean Morrison attended Boston University Student Government's last meeting of the semester Monday night to address concerns about the university's recent acquisition of Wheelock College.
A total of 600 Wheelock students will have the option to transfer to BU, Morrison said. A transitional information meeting is scheduled for Jan. 27 for Wheelock students to learn about their futures at BU.
SG President SaraAnn Kurkul said the meeting was arranged to foster transparency about the merger's logistics. She added SG will be involved in engaging incoming Wheelock students.
"We'll definitely be reaching out to them with student events, and reaching out to students that work in Student Government, and reaching out to the president as well, and helping [Wheelock students] get involved in [BU's] Student Government," Kurkul said after the meeting.
Elmore emphasized the importance of welcoming new people into the BU community.
"I'd certainly like to ask the Senate and SG to have a strategy as much as we have a strategy for transitions," Elmore said before the meeting.
Morrison said BU President Robert Brown chose to acquire Wheelock after looking at the opportunities BU's School of Education had to make gains in "growth and mission."
"This gave us the opportunity to more clearly articulate that we want to have a more important role within the city of Boston in education with a particular emphasis on K through 6," Morrison said during the meeting. "This [merger] can augment the research and scholarship of our current School of Education."
Morrison added Wheelock's location played a key role in the decision to merge, as BU has few other opportunities to expand its physical footprint.
"I think where the broad benefits to the institution come has to do with our expanded footprint," she said. "We're not quite clear how we're going to utilize the space. We're still trying to figure that out."
Elmore said it's important for BU students to remember that Wheelock students themselves were not involved in the decision making.
"These folks have had their lives changed … they had no choice in this," Elmore said. "This is the right thing to do given their circumstance."
Also during the meeting, Senate passed a BU formal proposal brought forth by College of Arts and Sciences student Jahnavi Bhatia to allocate $10,000 from SG's budget for a joint formal between CAS, the College of General Studies and the Sargent College of Health and Rehabilitation Sciences. The formal will take place in April at Hotel Commonwealth.
After the meeting, Senate Chair Octavio Vidal said he thought some senators were hesitant to approve the budget proposal because they felt their respective colleges may not benefit from a formal with a 500-person limit.
"The reality is that it is open to everyone," he said. "This is sort of what BU government is here for, to promote events like these that everyone can benefit from."
Several senators said they found the Q&A session with Elmore and Morrison a productive way to clarify concerns about the merger.
SED Sen. Noelle Ballantine, a sophomore, said she thinks the administration should keep students updated on the merger and plan more social events for Wheelock students.
"I know on SED Student Government, we have a lot of ideas of types of events we'd like to have that we just aren't sure about yet because we have a lot of miscommunication," Ballantine. "We're not being told everything we could be as student leaders."
SAR Sen. Vincent D'Amato said he appreciated Morrison and Elmore reaching out directly to SG.
"I feel like a good percentage of the student body's voice was heard at this meeting," D'Amato, a freshman, said. "Whenever something as big as the Wheelock merger comes out, they always emphasize to talk with our constituents about it, so we can have a real student voice presence."
Estevan Mendez, a freshman and SED senator, said he thinks SG started off slow this semester, but anticipates swift progress in the spring.
"There are many changes being implemented in Student Government, but I feel as though there are expecting big changes to come," Mendez said.
Noor Adatia contributed to the reporting of this article.