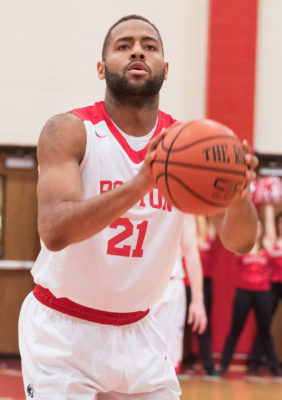 After dropping their first three games of the year against Northeastern University, the University of Albany and the University of Connecticut, there may be a light at the end of the tunnel after all for the BU's men's basketball team
Although this cold start did serve as a cause for concern for the Terriers (4-4) early on, it is certainly forgivable — it does take teams some time to gel and find an identity.
"Our identity is becoming more of a toughness, a defensive team," senior guard Eric Johnson said after the team beat Bethune-Cookman University Friday. "We fight everyday. We're just fighting everyday to improve our record."
Since the team's 85-66 loss at the XL Center in Hartford, Connecticut against UConn (7-3) the Terriers have rattled off wins in four of their last five contests. Most notably, BU was able to stay competitive on the road against No. 10 University of Miami, heading into the halftime break of that contest deadlocked at 30-30.
Terriers head coach Joe Jones expressed his approval of his team's ability to compete against arguably the highest level of college competition.
"They showed that they have the mettle to play in this type of environment," Jones said after the 69-54 loss to the Hurricanes (8-0). "It's something we can build on."
Sharing the success
While many successful teams are carried by one standout player, this Terriers squad is taking a much different approach.
BU has seen two players average double figures in points. Senior guard Cedric Hankerson is averaging 11.8 points per game, while senior forwards Nick Havener has contributed 10.6 points a night. Sophomore forward Max Mahoney is not far behind, putting in 9.4 points per appearance.
"It gives us confidence in our team," Johnson said, "knowing that everyone can step up and make a play. It's a building block for us [moving forward]."
In the team's most recent contest against Bethune-Cookman (4-5), Havener dropped 17 points, while Mahoney added 16 of his own. Hankerson and freshman guard Javante McCoy each dropped 11 points for the Terriers.
The Terriers also shot 64.8 percent (35 of 54) from the field against the Wildcats and drained 55.6 percent (10 of 18) from beyond the three-point line.
Locking in on defense
Although the offense is beginning to shine, it is hard to rely on the blistering shooting pace the Terriers demonstrated Friday night. A true commitment to the defensive end, however, can help any team compete as the season wears on.
Luckily for the Terriers, Jones said he realized the importance defense plays in making or breaking a season, and this philosophy has clearly reached the players.
"We focus on the defensive end more so than anything," Johnson said. "Coach doesn't talk much about offense, he's really confident in our offensive ability. So we really try to lock in on defense and we know when we lock in … we usually come out successful."
The Terriers have hounded their opponents on the defensive end over the last three games, averaging seven steals per game. Even against a more athletic and skilled team in the Hurricanes, the Terriers were able to come up with nine steals.
"We were in the right spots, we played hard," Jones said postgame. "We're committed to defending … I'm proud of the way we fought … I think there's a lot we can learn about ourselves."