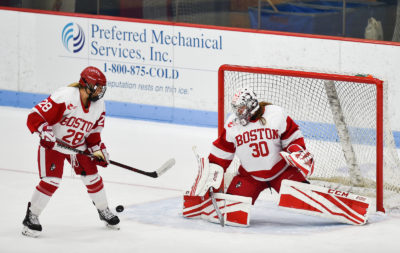 With only one month remaining in the regular season, the Boston University women's hockey team heads to the University of Connecticut Sunday afternoon to take on the Huskies (7-10-7, 1-9-4 Hockey East).
The Terriers (8-13-5, 4-10-4 Hockey East) have won only one of their last eight games, but look to rebound against a struggling UConn team in the two teams' third matchup this season. BU defeated the Huskies 6-2 in late October, and the teams ended in a 2-2 overtime draw just over two weeks later.
To BU head coach Brian Durocher, the most important recent development for the team has been the return of several key players. Senior forwards Victoria Bach and Rebecca Leslie led Team Canada at the 2018 Nations Cup while senior forward Nina Rodgers has recently come back from an injury that kept her out for nine games.
"Those are some of the good things — that we're getting people a little more healthy and maybe putting more than 14 skaters on the bench," Durocher said.
With crucial Hockey East contests coming up, and the annual Beanpot tournament quickly approaching, Durocher said he would like to see improvements on the defensive side of the ice.
"You can win a lot of games with two goals," Durocher said. "It's nicer to get three, four or five, but what are you sacrificing? I think the thing you can control a little bit better is defending. Hopefully we can do that in good fashion. We've got to start there."
In addition to defense, Durocher said playing well structurally is imperative.
"If somebody beats you because they're a little more talented, or they're a little stronger, that's one thing," Durocher said. "But if they beat you because you're making mental errors, controllable errors, that's the one that drives coaches crazy and can cost games."
One silver lining to the temporary loss of leaders like Bach, Leslie and Rodgers has been the opportunity for younger skaters to step up. In recent games, Durocher has been impressed by the line of freshmen forwards Nara Elia and Jesse Compher and sophomore forward Deziray De Sousa.
"They're all strong kids who do a good job down low in the zone," Durocher said. "They've generated some offense and opportunities."
Additionally, Durocher noted the performance of sophomore defenseman Breanna Scarpaci, who missed the majority of the first semester due to injury. Since returning to the lineup, Scarpaci has played well, already doubling her points total from the entire 2016-17 season.
"It takes awhile to get yourself back in playing shape and hockey shape, and she's slowly inching forward," Durocher said. "I've seen stamina building up and the confidence building up, and the poise building up."
Looking to Sunday, Durocher noted that the goaltending and defense of UConn stands out most. The Huskies have held their opponents to 2.2 goals per game, equal to their own mark. In the net, senior goaltender Annie Belanger sits on a .923 goal save percentage and 2.26 goals against average.
"They have a very, very talented [goaltender] there," Durocher said. "Their team defense has always been real solid, willing to block shots all over the ring. They're tough in front of their net, preventing you from getting rebounds."
Durocher also highlighted UConn freshman forward Natalie Snodgrass, who leads her team in points, goals, assists and shots.
"There's some talented kids there, but she's certainly bringing life to that team," Durocher said. "So we've got to pay attention to her."
With fewer than 10 games remaining on the season, the Terriers are still looking to break out and gain momentum. To Durocher, the best way his team can do that is by remaining focused and putting up one good period after the next.
"We've got to do the little things," Durocher said. "We've got to continue to inch forward and get better. And that's not because some players are getting their hockey legs under them, or some players are coming back from injury, it's because every person just plays a little smarter, a little better and a little more intensely. If any of that happens, there's enough talent and there's enough one-goal games to show that we can play with people. We've just got to reverse that one goal and be the one on top."
If BU can turn things around, starting Sunday against the Huskies, then Durocher believes the sky is the limit for the team. Or more accurately, the rafters.
"I've already told them, I feel like we're going to put another banner up in the roof Walter Brown arena," Durocher said. "I think we've got a shot at it in the Beanpot, I think we've got a shot at it in Hockey East."