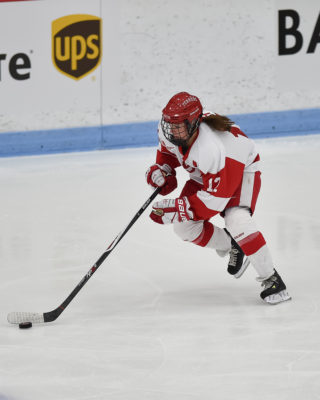 For senior forward and assistant captain Victoria Bach, her 93rd career goal could not have come at a better time for the Boston University women's hockey team.
Bach's goal not only pushed her ahead of former forward Sarah Lefort's program record for career goals (92), but also tied the game for the Terriers (8-13-5, 4-10-4 Hockey East) against Northeastern University with 3.3 seconds left in regulation time Tuesday night at Matthews Arena.
The Milton, Ontario native was able to reach the program record 13 games faster than when Lefort surpassed the previous record on Nov. 14, 2015.
"I've been working pretty hard toward [this] so I think it's a pretty great accomplishment," Bach said. "It definitely feels great, but I've got to give a lot of that to my teammates as well and everyone here at BU so far."
Although the matchup against Northeastern (12-10-3, 8-7-2 Hockey East) ended in a 3-3 draw after five minutes of overtime, BU was able to walk away with a valuable Hockey East conference point and currently sits in sixth place in the conference.
Bach was the only Terrier to find the back of the net during the contest, notching her fourth hat-trick of the 2017-18 season and fifth straight multi-point game.
"Every point is really important for us," BU head coach Brian Durocher said. "After our poor start the first five or six games, we had a pretty good run. Now you go back to a real tight game with a good Maine team, a split with Providence, a tie on the road with Northeastern, you can see the makings of a little bit of a run, a little bit of a streak here."
While the forward had a slower start to the season statistically, tallying five goals and nine assists in the Terriers' first 10 games, Bach has been anything but slow. In the span of 13 games since BU's tie against the University of Connecticut, Bach has tallied 23 goals and 11 assists.
The senior currently leads the Terriers in goals (28) and points (47), with her linemate senior forward and captain Rebecca Leslie not far behind at 40 points (16 goals and 24 assists).
Besides lighting up the score sheet quickly; on the ice, speed is something that is essential to Bach's game. It is also something that she said she focused on over past summer while with Team Canada.
"I'm not the biggest player so [I] definitely have to always get faster and get stronger," Bach said.
Durocher noted that this speed not only helps her score goals of her own, but also helps her create plays for her teammates, as Bach is second on the team in assists with 19.
"The biggest thing that helps her with her finishing is the fact that she can get to places that very few people can get to with her speed," Durocher said. "She can turn a two-on-two into a near breakaway, a harmless one-on-one into a pretty open shot and what looks like a pretty even footrace into a two-length lead."
After collecting four goals against Yale University on Dec. 7, Bach became the only player in the program's history to score 20 goals in all four seasons. Additionally, she lit the lamp 20 times in 18 games this season, the fastest in the Terriers' history.
"… While she's having the best year this year and has the chance to eclipse a couple of more goal-scoring records here, it's a testament to all four years," Durocher said. "Twenty goals or more in the first three years, and now a high 20s and counting this year, it really is a long term body of work that she can be proud of and should be recognized."