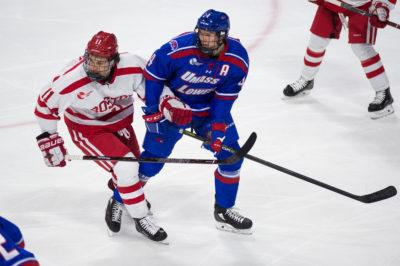 After picking up three crucial Hockey East points last weekend, the Boston University men's hockey team will take on Merrimack College in a home-and-home series and look to extend its unbeaten streak.
Last Friday, the Terriers (9-11-2, 7-7-2 Hockey East) knocked off the University of New Hampshire 3-2 and tied then-No. 11 Providence College by a score of 2-2.
"I think for the first time we were able to have some success both nights on the weekend, and I think it carried over to the week of practice," BU head coach David Quinn said. "There was a lot of energy [and] the effort was outstanding.
Sophomore defenseman Chad Krys echoed his coach's statement.
"Practice has been great [the] last two weeks to be honest with you," Krys said. "I think everyone is excited [with] the way we've been playing right now."
The Terriers have not won back-to-back games since the opening weekend of the season and came close last weekend.
Despite the inconsistencies during the season, the team still feels confident moving forward.
"I think we've just got to make sure we're always sticking together," freshman forward Shane Bowers said. "Obviously there's been some tough patches… but I know we're all confident and know we're capable of getting out of it. If we keep doing things right and playing our game, we'll be able to."
With the three Hockey East points the Terriers accumulated last weekend, BU now finds itself tied for fourth in the conference with 16 points, six behind the conference leader No. 16 Boston College.
The Terriers come into the series with the Warriors (7-11-4, 4-7-2 Hockey East) looking to avenge last season's series sweep — a series in which they were outscored 7-2.
"It is not a revenge game," Quinn said. "This is a four point Hockey East weekend, because last year has nothing to do with this year. We're tight in the standings and we can't think of anything other than playing well on Friday night."
Merrimack returns four of the five players that found the back of the net against BU last season, including senior forward Brett Seney and junior forward Michael Babcock, who both scored twice.
Seney comes into this year's matchup tied with senior forward Jace Hennig for the lead in points at 20.
Krys scored one of the two goals for the Terriers in last year's matchup. Of the late, Krys has been an important part of BU's offense as he finds himself leading the team in assists with 14 and third in points with 19.
Krys is tied with Northeastern University sophomore defenseman Jeremy Davies in points for defensemen in the Hockey East.
"This year I've [been] playing more power play time and playing some more ice time, so getting a lot more opportunity to play an all round game," Krys said. "So it's definitely a strength in my game that I try to bring."
After missing the last two games, freshman defenseman David Farrance is expected to play this weekend. However, sophomore forward Patrick Harper, who currently paces the Terriers with 21 points, is not expected to return this weekend due to illness.
Quinn added that he expects sophomore defenseman Dante Fabbro to play in this series.
Over the weekend against Providence (15-7-2, 8-4-2 Hockey East), Fabbro was hit from behind into the boards near BU's net and had to be helped off the ice.
For Merrimack, junior goaltender Craig Pantano has gotten the bulk of the time between the pipes. The Bridgewater native enters the weekend boasting a 2.26 goals against average and .918 goal save percent.
His netminding counterpart, BU sophomore goaltender Jake Oettinger will be tasked with stopping the Warriors' offense. The Dallas Stars prospect currently has a 2.81 goals against average and .904 goal save percent.
Quinn said he is impressed with the recent play of Oettinger.
"Jake's played outstanding the last three games," Quinn said. "I think now that the World Juniors [are] over with and he's just focusing on the task at hand here. This is the best he's looked by far all year."
Despite playing in a smaller rink, Quinn does think his team can be successful.
"Obviously they built their team around playing in that rink half their games," Quinn said. "That being said, I've liked the way we've been physical, I liked our tenacity. It's a small rink, you've got to beat people off walls to be successful. You've got to be quick. I think we can do that, and if we do that we'll have success."