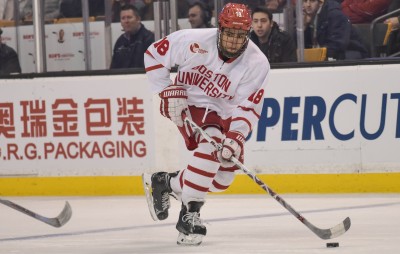 After picking up a 4-3 victory last night over Merrimack College, the Boston University men's hockey team returned home to Agganis Arena in search of a sweep over the Warriors (7-13-4, 4-9-2 Hockey East). They pulled off the weekend sweep due in large part to their power play.
Friday, BU (11-11-2, 9-7-2 Hockey East) converted on one of its two power play chances. Sophomore defenseman Dante Fabbro took a pass from junior forward and assistant captain Jordan Greenway and freshman forward Brady Tkachuk and fired a shot passed junior goaltender Craig Pantano for his first goal of the night in the first period.
BU head coach David Quinn said he was happy with his team's penalty kill Saturday night.
"Our special teams were the difference tonight. Obviously our penalty kill was good," Quinn said. "And It starts with your goalie. But I also thought we did a better job structurally killing penalties."
Saturday night, BU would also score on a power play in the first period. This time it was Tkachuk. Tkachuk took a pass from Greenway and Carpenter and found the back of the net.
Merrimack senior forward Brett Seney got sent to the box on a hooking call to set up the opening goal.
Tkachuk said during an intermission interview that he was trying to pass the puck, but he got a lucky bounce.
Although its power play was successful, BU had problems on the other end of its special teams.
Friday night, Merrimack scored on two of its four power play chances. Senior defenseman and assistant captain Marc Biega and Seney had success with the man advantage. For Seney it was his sixth career goal against the Terriers.
Greenway found himself in the box two times both Friday night and Saturday night. He currently leads BU in penalty minutes.
Entering Saturday night's tilt, BU scored on just over 20 percent of its power play opportunities, putting it third in the conference and tied for 20th in the nation. They also came in killing off just over 76 percent of their penalties, a mark that puts them 54th in the country.
By contrast, Merrimack came into the matchup 13th in the country by converting on just over 22 percent of its opportunities with the man advantage. They also came in ranked 57th in the country, killing over over 75 percent of their penalties.
BU converted one more time on the power play. Warriors junior forward Michael Babcock was in the box on a holding penalty. Terriers junior forward and assistant captain Bobo Carpenter received a pass from Greenway by way of freshman defenseman David Farrance and released a wrist shot in the slot for his second goal of the night with 9:56 in the final stanza.
"It's 2-1 and we get a power play and we get a power play goal in a timely manner,"  Quinn said. "Our power play was pretty good all weekend."
Despite killing all their penalties, Quinn was not pleased that his team committed seven infractions.
"You can't take seven penalties and think you're going to win a hockey game," Quinn said. "We deserved every one of them, maybe one of them I thought was iffy… The last four games we haven't take more than three penalties. We've done a good job and then boom we take seven tonight."
Carpenter added that the the team wants to get the power play back on track during the second half of the season.
"Our power play's been struggling, and we really focused on that and we really wanted to get that going because that helps you win games and it loses games for you," Carpenter said. "… My teammates made those quick plays and I'm lucky enough to be in the slot there."