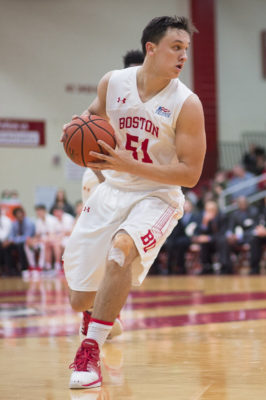 Five minutes into the Boston University men's basketball team's matchup against the United States Naval Academy, the Terriers' (10-9, 6-2 Patriot League) leading-scorer senior guard Cedric Hankerson went down on his right leg.
Hankerson was helped off the court, but despite being without its two leading scorers for the majority of the game, BU's other young players stepped up in the 75-68 road win over Navy (13-8, 4-4 Patriot League).
"[Hankerson]'s been banged up recently," Terriers' head coach Joe Jones said. "His ankle, groin, hamstring [has] been tight and that's what he hurt today, he hurt his hamstring. We're going to have to rest him. He needs rest and we need him to get healthy…"
BU was paced by freshman guard Javante McCoy's 16 points. The first year player went a perfect 5-for-5 from the field while sophomore forward Tyler Scanlon's career-high six assists.
Senior guards Will Goff and Eric Johnson chipped in two three pointers apiece, and sophomore forward Max Mahoney registered nine points, four rebounds and three blocks over 16 minutes.
"I think [the road win] shows you the depth of our team and what we can do at times when those things happen," Jones said. "You're going to have that because you're going to have injuries, you're going to have some guys not play well and you're going to need some other guys to step up. The good thing for us is I feel like whoever I put on the floor, when they're focused, can help us and that's what I saw today."
The Midshipmen started the contest with a 4-2 lead after two good layups. However, a three-point field goal from Hankerson gave the Terriers a 5-4 advantage.
After Hankerson exited the court with his injury, Johnson gave BU a 13-4 lead with a three pointer. The Terriers shot 8-for-14 from behind the arc overall.
BU didn't stop there, however, and accumulated an 11 point lead midway through the first half.
The Terriers' second-leading scorer Mahoney played a total of five minutes before returning to the bench for the half after drawing two fouls.
BU kept its lead for most of the half until Navy junior forward George Kiernan brought the game within two with a three pointer.
The Midshipmen brought the score to 29-27 with 39 seconds remaining, and ended the half with possession, but a steal by Goff prevented Navy from going into the locker room with a tie.
"It was a focused team from start to finish," Jones said. "Obviously there were some ebbs and flows to it when we didn't play as well, but I thought they understood what we were trying to do. They tried to execute it and that's what I was pleased with is what I saw from how we prepared to what they did while they were on the floor."
Sophomore center Evan Wieck and senior forward Tom Lacey gave the Midshipmen a temporary 30-29 lead at the start of the second half before Scanlon made a layup to give the Terriers a lead they would not relinquish for the remainder of the game.
Mahoney netted four field-goals, including two dunks 37 seconds apart, while Scanlon had five assists over the half.
"Tyler's been our best playmaker. He just does a lot of things that help us," Jones said. "It's like having another point guard on the floor when he's on the floor. He's able to read situations and he sees over the defense. He makes the game easier for other guys."
However, Lacey and Kiernan remained offensive threats for Navy, and helped bring the score within one at 52-51 with 7:23 to go in the game.
Lacey notched his third double-double of the season for Navy with 16 rebounds and 12 points, and Kiernan tallied a game-high 22 points.
McCoy's lone three-pointer of the night pushed the score to 55-51 and the Terriers maintained a lead of four points or more throughout the rest of the contest.
BU ended the matchup with a handful of free-throws, going 17-for-24 (70.8 percent) over the night.
With the win, the Terriers keep their second place standing in the Patriot League behind Bucknell University, who they will take on next Sunday.
"I mean that was a tough game," Jones said. "It seemed like we had control over the game, but they were right there. It could've went either way down the stretch."