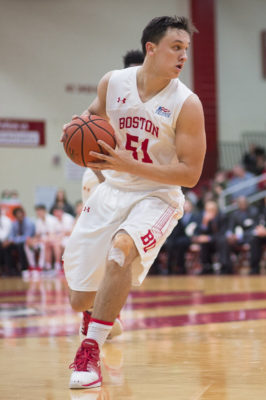 In the absence of the Boston University men's basketball team's leading scorer senior guard Cedric Hankerson and senior forward Nick Havener, sophomore forward Max Mahoney stepped up for the Terriers (12-10, 8-3 Patriot League) and tallied a game-high 27 points in their 64-55 win against Loyola University Maryland Wednesday night at Case Gym.
"From the start of the game, we were going to have to grind it out to beat them," BU head coach Joe Jones said. "We weren't just going to be able to outscore them and I was just proud, man I was."
Hankerson has been out for two games with a hamstring injury since the Terriers played the United States Naval Academy on Jan. 20. Havener, who notched 21 points against Lafayette College last Wednesday, was out with the flu and did not appear on the bench.
BU has needed the input of its underclassmen, such as sophomore forward Tyler Scanlon and freshman guard Javante McCoy, throughout the season, and especially now with Hankerson injured.
While the team only had nine healthy players, Jones noted the depth of the roster.
"We're not playing to get 'this guy' open, I mean tonight was Max, but we don't play that way," Jones said. "We play a style where if you're open, you better do what you do best so now when one guy has to step up, he's ready and I think that really helps our guys."
Mahoney is second on the team in scoring, but his ability to contribute has often been hindered by foul trouble, as he leads the Terriers with 55 fouls.
"I tried to be not passive, but smarter with the decisions I was making on the court," Mahoney said.
However, against the Greyhounds (7-15, 5-6 Patriot League), Mahoney exploded with 14 points in the first half and seven rebounds overall while going 12-for-14 from the field and recording four fouls over 20 minutes of playing time.
The 6-foot-8 forward helped BU come out with a 7-0 lead after scoring a layup and a jumper.
Loyola was able to even score at 14 with two three-point field goals from its leading scorer senior guard Andre Walker midway through the first half.
Senior guard Will Goff broke the tie with a three pointer, and currently leads the Terriers in three pointers, shooting 49.4 percent from behind the arc.
The Greyhounds knotted the game twice more in the remainder of the half, although they were unable to take a lead and BU ended the frame up by 33-29.
The Terriers outrebounded Loyola 18-10 in the first half and BU finished with 37 on the night.
Jones commented that he thought his team made a "concerted effort to rebound the ball."
"That's just somebody being physically locked in," Jones said. "We're strong enough, we're tall enough, we're athletic enough to be a good rebounding team and tonight we showed it."
Loyola opened the second half with a layup from guard Sam Norton.
Freshman forward Walter Whyte quickly extended the Terriers' lead with a three pointer, and over the span of six minutes, Mahoney netted nine points.
Jones and Mahoney both noted senior guard Eric Johnson's playmaking skills during the matchup.
"Eric Johnson did a great job, like two or three balls just putting it right in my hands right in front of the glass," Mahoney said. "I mean anyone can make that shot and he just did a great job putting the ball there."
BU gained its largest lead of the game thus far as Whyte notched two free throws midway through the second half. Whyte finished the night with 15 points, seven rebounds, two blocks and a steal.
However, Norton and guard Andrew Kostecka kept their team in the game, collecting seven and eight points respectively over the 20 minutes. Although the Greyhounds were unable to get their deficit lower than five points for the rest of the matchup.
Despite only playing eight minutes, Mahoney continued to contribute, and scored 13 points during the half.
With 57 seconds remaining, McCoy gave the Terriers their largest lead of the night at 58-48. Guard Chuck Champion and Kostecka contributed three points apiece, but their last minute efforts were not enough and Loyola left BU winless once again.
"[Tonight's win] shows that we have a lot of guys that are willing to step up," Mahoney said. "I thought we were selfless tonight."