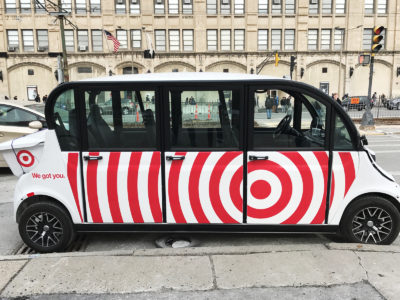 For the first two weeks of the semester, shuttles dawning the red Target logo could be found all along Commonwealth Avenue, taking Boston University students to and from the Target store located at Packard's Corner free of charge.
Target's Senior Manager of Public Relations Erin Conroy wrote in an statement for The Daily Free Press that the Target shuttles, the result of a partnership between Target and the transit service Gotcha Ride, were introduced to various colleges and universities during the back-to-school period in the fall, and just recently for the start of the spring semester.
As the spring move-in period ended, so did the shuttle service. The Target shuttles stopped running on Jan. 28.
Conroy wrote that the shuttles bring students to Target's "nearby small-format stores during peak times when students [are] returning to campus after breaks."
Maya Malekian, a freshman in the College of Communication, said she thinks the shuttles are especially useful during this move-in period.
"I, for one, had a lot of difficulty transporting my Bed Bath & Beyond goodies to my room," Malekian said of move-in day. "I remember seeing them after I had finished unpacking and wishing that I could be in one of those."
Michelle Pan, a freshman in the College of Arts and Sciences, wrote in a text message that despite the shuttles only run during the beginning of the semester, she thinks they would be useful beyond that time frame.
"The shuttles could be useful," Pan wrote, "especially during the winter months for students wanting to avoid the cold weather, but needing to get supplies at Target."
CAS junior Aneta Jedlicka said she thinks the shuttles, which she has previously seen in other cities, could be useful for students, but aren't advertised enough.
"It doesn't really have a lot of publicity," Jedlicka said. "I haven't heard any more about it [other] than seeing it on the streets."
Some students, like CAS sophomore Shay Abid, said they find the Target shuttles, for the limited time they run, to be a great substitute for the BU Shuttle.
Abid wrote in a Facebook message that she prefers the Target shuttle because the BU Shuttle is often crowded and doesn't run according to its posted schedule.
"The Target shuttle, though it seats a much smaller [number of people], is definitely preferred because I have room to move around," Abid wrote. "And the blasting music and conversations I had with the driver definitely helped make it a more personal and happier experience than the BU Shuttle ever could [provide]."
Other students, like Questrom School of Business junior Howard Odom, find the Target shuttles to be too small and too scarce to be an effective replacement for the BU Shuttle.
"The problem with having a lot of smaller shuttles at BU is that it would be annoying during peak hours when a lot of people need to use the shuttle," Odom wrote in a Facebook message. "A bunch of shuttles would also crowd up Comm. Ave. more, and that wouldn't be good."
Odom added that he while he doesn't think Target shuttles could serve as a substitute for the BU shuttle, he did have a fun experience riding in one.
"I think it's a novelty item that is fun once," Odom wrote. "I definitely wouldn't want to get fender-bendered in one of those things."