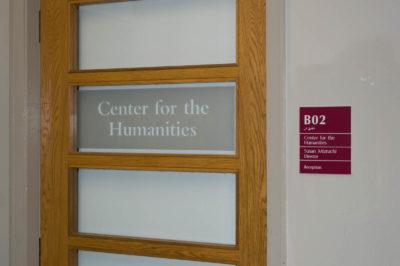 Contrary to the notion that majoring in the humanities is a recipe for unemployment and unhappiness, graduates find themselves just as satisfied with their financial situations as those who major in other fields, according to a study conducted by the American Academy of Arts & Sciences.
The study found that salary rates are slightly lower and unemployment rates slightly higher for humanities majors than for science and engineering majors, but in terms of satisfaction with opportunities for advancement, salary, benefits, job security and job location, the median percentage for humanities majors was 71.6 percent, compared to 76.5 percent among college graduates as a whole.
Director of Boston University's Center for the Humanities Susan Mizruchi said in a phone interview that given the high expense of a college education, students and families want to know what the value of their education is and how it will guide them in their futures.
Mizruchi said courses in humanities teach skills that are extremely beneficial in the job market.
"I think it's just long been known that we teach things that are indispensable," Mizruchi said. "I do think writing ability is probably the single most valuable thing that students come out of our classes knowing — how to write fluently and accurately and concisely."
Bruce Schulman, a history professor at BU, wrote in an email that the reason for the decline of students studying humanities in recent years is a combination of the high costs of a college education and an unstable economy.
"[Students] naturally want something that seems more vocational, more practical," Schulman wrote. "But the training that might give you an advantage in getting your first entry-level job often does not match the skills, knowledge and habits of mind you need to get the career you want."
Schulman wrote that when he graduated from college in 1981, English and history majors accounted for half of his graduating class. He added that there has been a slow decline since the late 1970s, and after the 2008 financial crisis, the United States saw an extreme drop in students majoring in humanities.
Tamzen Flanders, the BUCH administrator, said that an important contributor to the negative perception of humanities majors comes from the current state of the economy.
Flanders added that students often consider employment and employability when making their college choices, but she believes students should pursue what they are passionate about because they will gain valuable skills regardless of their field of study.
"Whether you are an engineer, whether you are a molecular biologist, whether you are a painter … when we undertake any activity with seriousness and with passion and that we can learn and grow from it, we do," Flanders said.
Several BU students, including College of Communication senior Kylie Panczner, said they think that despite the negative perceptions of majors in the humanities, it is important to continue pursuing them.
"I think that they're really fulfilling," Panczner said of humanities courses. "For example, I'm taking a film class and it's just an elective — it has nothing to do with my major — but there's just a sense of fulfillment in analyzing things and looking at cultural references and deep thought that goes behind the curriculum."
Gabriella Davies, a sophomore in the College of General Studies majoring in art history, said that although STEM majors are doing something they love and do get the chance to express their creativity, there may be pressure to follow the crowd.
"If everyone just did STEM, we wouldn't have arts or anything like that," Davies said. "We do need the humanities; it's a huge part of our culture."
College of Engineering senior Patrick Casey said he chose engineering to avoid the potential of being unemployed or having an inadequate salary, but he said he thinks the humanities still represent important fields for students to pursue.
"I definitely think it's a worthwhile thing," Casey said. "I mean, I'm good at math and science — that's why I do engineering — and I enjoy it, but I also love a lot of non-math and science things. You need to be well-rounded as a person."