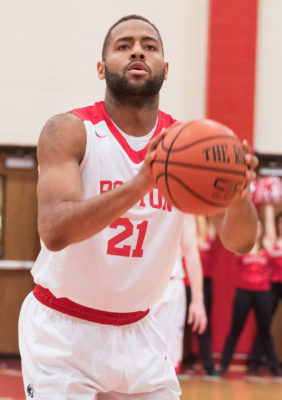 The Boston University men's basketball team will look to reverse its fortunes as it heads to the nation's capital for a Wednesday night Patriot League tilt against American University.
The Terriers (12-13, 8-6 Patriot League) have lost three straight games and four of their last five, beginning with a 91-79 loss to Bucknell University on Jan. 28.
The last time these two teams faced off, it was the Eagles (5-20, 2-12 Patriot League) who came out on top. Freshman forward Sam Iorio and sophomore guard Sa'eed Nelson led American with 26 and 18, respectively, in a surprising 69-58 victory.
The Eagles have not won since, and sit at the bottom of the Patriot League with four games remaining in the regular season.
However, BU head coach Joe Jones is still wary of the threat American poses, and understands they have the firepower necessary to throttle his Terriers.
"Sam Iorio and Sa'eed Nelson are terrific players," Jones said. "They've got these complementary players that do a really good job. In the last game we didn't do a great job of stopping their best two players."
Iorio is averaging 14 points per game and 6.4 rebounds per game while Nelson is averaging a team-leading 18.1 points per game and 4.8 assists per game. These two, along with junior guard Larry Motuzis, are all shooting in double digits.
Stopping these three will be key for the Terriers, and Jones has pinpointed defensive focus as a highlight for his team coming into this game.
"We have to be more active with what we're doing defensively, have an idea of what their guys are trying to do and take away some of the things they did the first game," Jones said.
In each of their last three losses, the Terriers have headed into halftime on the losing side.
For BU to turn its fortunes around, it must take care of the ball. With 21 turnovers in their last game against American, the Terriers cannot afford to give the Eagles extra opportunities to score.
Jones also highlighted rebounding as a major key for his team, especially against an undersized American team that his Terriers match up well against.
"We have to rebound the ball, that's another big key for us," Coach Jones said. "We have to use our size and length to get on the backboards."
Senior guard Cedric Hankerson has been a stalwart leader for BU this season, recently coming back from a lower-body injury to play 28 minutes against the College of the Holy Cross Saturday afternoon.
Despite the expectations put on Hankerson at the beginning of the season, Jones is not expecting the output seen from Hankerson in his return from a recurring injury.
"We're asking the kid a lot. He doesn't play for three and a half weeks. The guy practices one day and then plays 28 minutes in a game," Jones said. "You can't expect him to be ready to go 100 percent mentally and physically. I think over the course of the next few games we'll see him get back to where he was before he got hurt."
Hankerson has not been the only BU player to get the injury bug, and this has had a strain on the cohesion of the team as a whole.
For the Terriers to move in a positive direction as post-season play approaches, being as healthy as possible wouldn't hurt.
"We need some continuity in what we're doing," Jones said. "We can't control that, we have to try to control the other things."
While Jones recognizes the team can only do so much to prevent injuries, he said he is asking them to do the best with what they have and focus on doing everything that is asked of them as the season comes to a close.
"We have to focus on what we're trying to do with the group that's playing because it's a team that's shifted so much," Jones said. "A better focus and a strong defensive mindset are what I'm looking for down the stretch."