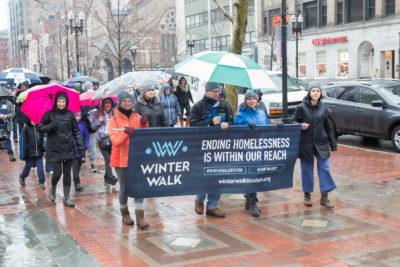 Boston's housed and unhoused residents joined together to walk two miles in the rain through the city last Sunday. At the Winter Walk to End Homelessness, participants raised financial support and awareness for the unhoused in Boston.
The event raised $100,000 for partner organizations and programs last year. This year it attracted roughly 1,000 participants and volunteers from all backgrounds, old and young, housed and unhoused.
Starting in Copley Square, marchers made their way down Boylston Street, looping through Boston Common and the Public Garden before returning to Copley.
Ariane Barbanell, director of The Winter Walk, said she hopes that the momentum didn't end after participants shuffled home at the end of the community breakfast.
"I hope that people wake up on Monday after the walk and take action," Barbanell said. "Perhaps [they will] reach out to one of the partner organizations that they learned about and see how [they] can volunteer."
One initiative that benefited from Winter Walk's support was Common Cathedral, an outdoor congregation welcoming the housed and unhoused for worship each Sunday in Boston Common. The ministry partners with housed congregations throughout New England, who provide lunch to all.
At Common Cathedral, a member's religious affiliation (or lack thereof) is of little importance. Executive Director Amanda Grant-Rose said that community is paramount.
"We try to focus more on the community we're building, so that in that community there's care and compassion that's provided," Grant-Rose said. "We have some of the basic needs –– we'll have a sandwich and soup, but it's less about the soup and more about the relationships built while we make the soup."
The community created provides a safe base, Grant-Rose explained. Common Cathedral exists alongside housing programs in Boston. The housing programs allow Common Cathedral to focus on being a place where the unhoused can find emotional and spiritual support.
Grant-Rose said it's a beautiful opportunity to acknowledge and see the humanity in others. "We see, absolutely, the transformation of people who find that spark," she said.
Both Barbanell and Grant-Rose have many stories to tell that connect names to faces of the unhoused who are often ignored by passersby. After all, Barbanell said, everyone has a story.
"It's an incredible thing to realize how fine the line is between someone who might have a roof over their head and someone who doesn't," Barbanell said.
Barbanell recalled the story of a man who had lived a successful, middle-class life. Through a series of fluke tragedies, however, he lost everything.
"He recognizes that it could happen to anyone," Barbanell said. "His story could be anyone's story. He has such an interesting reflection of how simple it might be for somebody to fall into homelessness, and how difficult it can be to get out."
John Lane, a Boston University alumnus, experienced homelessness several years ago but is back on his feet with the help of aid from organizations like Common Cathedral and Pine Street Inn. He now resides in Charlestown.
"I got involved with Common Cathedral because a few years ago, I was homeless," Lane said. "I was living on the island. I went through the whole bridge crashing, was staying in the gym, and then I was at 112 where they open across from the fire headquarters."
Lane found stable housing through Pine Street Inn, and he returned to Common Cathedral as a full-fledged congregant after having attended some of its programs in the past. He is now a volunteer and worked the past month promoting the Winter Walk.
"I will be thrilled that we all did it in the rain," Lane said. "The situation and the conditions that it was wasn't, you know, a beautiful, sunny 60 degrees. It really kind of hammered home what the conditions can be like outside, and this isn't even that bad. It can get a heck of a lot worse."