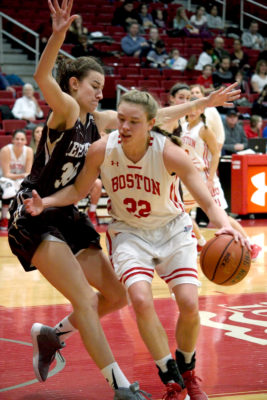 The Boston University women's basketball team will look to win its third straight game Wednesday night, when it takes on American University at Case Gym.
The Terriers (10-13, 5-8 Patriot League) are coming off a 64-58 win against the College of the Holy Cross. The victory was largely due to sophomore forward Nia Irving's 24-point and 11-rebound performance, her fifth double-double of the season.
Irving won her second Patriot League Player of the Week award last week for her game against Holy Cross (10-14, 5-8 Patriot League) as well as for her performance against Colgate University, in which she scored 19 points in the thrilling overtime win.
In addition to Irving, BU head coach Katy Steding said she is hoping other key players will step up in Wednesday's matchup.
"It'll be nice to have our lineup pretty much back together," Steding said. "We're looking for big games from [senior center] Sophie [Beaudry]. She provides such a great defensive spark to us. I really like what [freshman guard] Tenisha [Pressley] has been doing off the bench and [sophomore guard] Vanessa [Edgehill] has been making some contributions lately. Nia Irving is right where we expect her to be offensively."
Another one of BU's key players, senior guard Corrine Williams is questionable, after suffering an injury against Colgate (4-20, 0-13 Patriot League). She has scored an average of 8.6 points per game and collected 4.9 rebounds per game.
BU's offense has seemed to heat up recently. In the last four games, the Terriers have shot an average of .435 percent from the floor and have begun to return to their winning ways.
"We've gotten some momentum from these last couple of games," Steding said. "So we had a really good energetic uptempo practice [Tuesday] about being aggressive with defense and making sure that we're staying tight on offense together and really attacking the rim and the paint."
However, a win Wednesday night will be difficult to secure, as American (20-4, 13-0 Patriot League) is the only undefeated team remaining in the league. The Eagles are also coming off a 60-44 win against Lehigh University over the weekend.
Senior guard Emily Kinneston had her first career double-double, scoring 18 points and collecting 10 rebounds. She is fifth in the league in scoring, with 14.9 points per game.
Junior forward Cecily Carl is close behind her, with 12.4 points per contest, and also leads the team with 8.4 rebounds per game.
The last time the Terriers faced off against American, they lost by the score of 66-50. Kinneston contributed 17 points while junior guard Elina Koskimies led the team with 24 points, posting a 7-for-11 clip from beyond the arc.
"We didn't have a couple of the things that have been bothersome in a lot of games," Steding said of BU's game against the Eagles earlier this season. "We had multiple turnovers in that game, especially in the third quarter. So we made adjustments right out of halftime, looking at what we tried and what they did."
The scoring was fairly even at first, as BU only trailed by four at the end of the first half.
However, the game got a little out of hand for the Terriers in the third quarter, when the Eagles outscored them 23-13. The Terriers' 22 turnovers allowed the Eagles to score 26 points and come out on top.
Steding noted that several of BU's losses this season can be attributed to small stretches in each game when the opponent has been able to gain the upper hand.
"In some quarters we've had lulls," Steding said. "We try to go back and look at trends that get us in those lulls. We need to really keep the focus on us, and make adjustments based on what's working for us."
Although the Terriers are underdogs heading into their matchup against the undefeated Eagles, Steding is confident her players can carry their current momentum into Case Gym and battle with the league's top team.
"A lot of times we get caught up in what the other team is doing we forget to concentrate on us," Steding said. "That's really been our focus in the last 10 days or so, and it seems to be paying off."