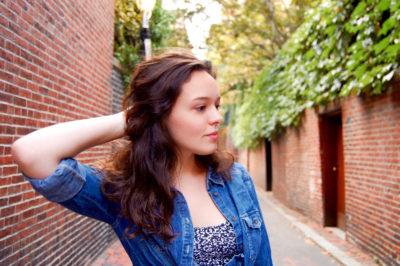 Entering the bathroom in Kat Iris's Allston apartment, visitors are met with the sight of a footed bathtub, preserved from another era. "Everyone notices the bathtub," Kat says, with a smile.
The singer, known offstage as Katelyn Dowd, has brown waves of hair that frame her rounded, strong face, which often features a confident, measured smile. Her music recalls classic Americana folk, though the genre is a far cry from her earliest musical impulse.
"I tried to write punk music for a while. When I was like 15, 16, my cousins and I, we were like, 'we're going to have a punk band, we're going to do that,' and that lasted for about two months," said Dowd, a junior in the College of Arts and Sciences.
A singer-songwriter, Kat Iris grew up performing music whenever she could. Born in Brooklyn and raised in Rockland County, she grew her musical talents during high school, singing in the choir, performing in the school musical and playing in the jazz band.
Unlike many of her Rockland County neighbors, Dowd said she knew that she did not intend to spend her whole life in a small town. The travel bug has propelled her across the United States, where she has performed, explored and made new connections. She met her boyfriend, musician Tommy Duckworth, in an Asheville, North Carolina pub.
"It was a small pub and there was a an eclectic group of musicians and Kat performed some of what I've come to find are her favorite songs," said Duckworth, 21, who lives with Dowd in Allston. "Deep cuts by the likes of Ryan Adams and Tom Waits. I thought she was very interesting and compelling. I saw very much potential in her musical endeavors."
Dowd said her music is concerned with the question of finding oneself. Often, her songs explore themes of identity and exploration. She finds lyrical inspiration in the stories of others and uses songs "to figure out who I am, where I belong, and what I'm supposed to do with it all."
Her creativity, Dowd said, is heavily wrapped up in empathy with her audience. "Having that kind of connection with people is something I find very rewarding," she said.
Duckworth said Dowd's "emotional awareness" is what makes her music special.
"She can see the best as well as the worst in everyone," he said. "Her characters are a mixture of the many faces she's seen come and go throughout her lifetime. Kat's writing is deeply reflective and equally enigmatic."
Dowd's friend Tyler Rigdon, 22, helped record a demo of her song "Late December Glow" in Dowd's Allston bedroom.
"I think the fact that she is only 20, yet has this New York City background mixed with her experiences here in Boston, makes for some interesting lyrics, stylistic nuances and aesthetic," Rigdon said.
Dowd's music features her resonant, soulful voice modulating against a smooth, grassroots Americana guitar. Her voice alternates between high and low pitches, creating a sound much deeper than her usual bubbly speech.
Her songwriting notebook, which contains every lyric she has penned in the last two years, is a standard black composition book, water-stained, with verses in pen, long scripted lyrics, cross-outs and some songs she's co-written with Duckworth, who originally encouraged her to write her own songs.
"We were hanging out, playing songs … and he goes, 'you should write some songs,' and I say, 'you know, I don't know if I can do that …' and he says, 'you should just give it a go, give it a go,'" she said.
Being a college student and musician requires a lot of composure, Dowd said, but she is thankful that songwriting is a flexible activity, one that she can do in her room or on the bus. As an international relations major, she said she sees the same empathy required of making music in international conflict resolution.
Eventually, Dowd said she wants to put together a full album and even get signed one day.
Despite how far-flung her travels and music have taken her, Dowd still remembers where she came from. She works for her dad's company and took her stage name from a grand relative who went by the first name Iris. Like the music she plays, her roots are apparent.
"People always knock country music, but I feel like what they're knocking is not the three chords and the truth stuff — they're knocking the tractors and trailer parks country music," she said.