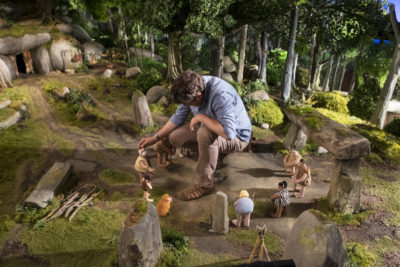 Stop-motion animated features are woefully neglected cinematic works. Stop-motion technology has benefited films like "Star Wars" and "Jurassic Park," and made "Rudolph the Red-Nosed Reindeer" one of the most popular holiday movies in history.
Still, its importance and usefulness has been replaced, for the most part, by advanced CGI, which critics laud. In the history of the Oscars, only one stop-motion film has won the Best Animated Feature award. That film is Aardman Animations' "Wallace and Gromit: The Curse of the Were-Rabbit" from 2005. Only the production company's second cinematic effort, the movie is its most acclaimed yet, cementing Aardman's prominence as one of stop-motion's all-time greats.
Now, the company has released "Early Man," a film with a perfect theme for an animation studio from Great Britain: soccer (or football, as it is referred to in the film).
The studio curated a masterful cast of voice actors for the film. Though Aardman's previous film "Shaun the Sheep Movie" is one of its most acclaimed, there were few voice actors in it, as there was almost no dialogue. "Early Man" features an ensemble of British actors from Oscar-winner Eddie Redmayne to Maisie Williams of "Game of Thrones."
Even Gina Yashere from BBC 2's irreverent comedy show "Mock the Week" has a role. To put this into perspective, this is similar to when Jack Black was in an episode of Sesame Street.
The story begins with Neanderthals inventing soccer by kicking around a small meteor through goals made from dinosaur bones. The Neanderthals drew cave paintings of themselves playing the sport for future generations to see. Time fast-forwards to a Stone Age tribe hunting for rabbits, led by their Chief Bobnar (Timothy Spall). At the chief's side is Dug (Redmayne), the chipper protagonist accompanied by his curious pet boar Hognob (Nick Park).
After the tribe's day of hunting, a large group of Bronze Age conquerors, guided by their leader Lord Nooth (Tom Hiddleston), tear down the tribe's forest and dig up their land so they can mine for materials. In response, Dug and Hognob infiltrate the gated bronze age citadel to confront Nooth. After witnessing his first football match ever, Dug makes a deal with Nooth that if he and his tribe can beat the undefeated champion team Real Bronzio, they get their land back.
The first thing to notice about this film is, of course, the animation. Each scene flows perfectly despite how arduous the stop-motion process can be. There is also an air of "realness" to each shot. Every character even has discernable fingerprints.
What helps make the production much grander is the computer animation placed throughout. There are shots with meteors and volcanoes which, without the assistance of computer graphics, would look stale. It is not only captivating but its prominence set the film apart from Aardman's older work.
As for the actual film, it is not mind-blowing but still very well done. First, the film feels incredibly short. Though it is an animated film, the 100-minute production feels shorter than some episodes of "Black Mirror." There is no embellished drama or awkward love scene. Instead, it is an easy-going plot sprinkled with cogent messages about teamwork, determination and occasional feminism.
As the plot progresses, soccer fans will pick up the numerous references and jokes about the sport's modern-day culture.
The queen who rules over the Bronze Age citadel is named Queen Oofeefa, inspired by the name of soccer's governing body, FIFA. Lord Nooth's assistant refers to him as "Your Premiership," a reference to the English Premier League's nickname. There is also Lord Nooth himself. With his accent, body shape and blatant greed, he is like an animated caricature of Sepp Blatter, the former FIFA president who oversaw the organization during its 2015 corruption scandal.
These small details make the film as entertaining for adults as it is for children.
All things considered, soccer fans and casual moviegoers alike will enjoy "Early Man." It is not a tense nail-biter, nor is it a bore. It is fun, simple to follow, and above all, well-put-together, as a family film should be.