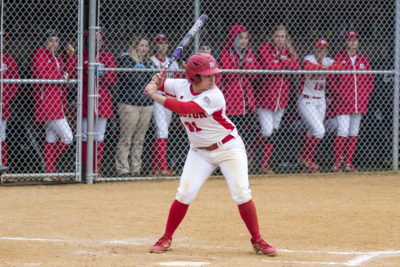 The Boston University softball team is preparing for its second preseason tournament and will travel to Las Cruces, New Mexico, home of New Mexico State University, for the Troy Cox Classic.
BU (3-2) will be joined by Ball State University, the No. 1 University of Oklahoma and New Mexico State (2-1), who host the annual tournament.
Oklahoma (5-0) enters the tournament as a two-time defending NCAA champion. The Sooners have began the season extremely well, with sights set on a third straight championship.
Oklahoma began its season at the Grand Canyon University Kickoff tournament, and barely broke a sweat.
After a 6-3 comeback win over Weber State University, the Sooners only gave up one run during the rest of their four remaining games.
In its final four matchups, Oklahoma outscored its opponents 29-1, including three straight shutouts to end the tournament.
The Sooners were strong in all facets of the game, posting a .359 team batting average and a .82 combined earned run average. They are led by senior pitcher Paige Parker, who did not give up an earned run and won all three games.
Offensively, junior infielder Sydney Romero has started strong. She leads the team with eight hits and has a .533 batting average.
Oklahoma will be the only team the Terriers play once, as they will play each of the others twice.
BU head coach Ashley Waters is excited at the prospect of being able to play some of the best teams the nation has to offer.
"It is great for us to see what level we need to get to," Waters said. "We will do our best to try and keep the ball in the park and keep the game close."
Ball State (3-2) began its season at the Florida Gulf Coast University Kickoff Classic and lost its first game before winning three straight and losing the finale.
Sophomore pitcher Alyssa Rothwell appeared in all five games and gave up just nine hits in nine innings of work.
With a .417 batting average, freshman infielder Hailey Demnianiuk leads the Cardinals in that department.
However, in terms of power, sophomore infielder and outfielder Kennedy Wynn leads Ball State with three home runs.
The Terriers last met up with the Eagles in 2016 and fell 5-4.
Waters was impressed for the most part in the performance from last weekend, but wants to see her team cut down mental mistakes.
"Physical mistakes are going to happen," Waters said. "But if you can cut down the mental mistakes — knowing what is going to happen in each situation, that will help us against some of the top teams in the country."
New Mexico State has played three games against the No. 13 University of Kentucky and won two.
Senior pitcher Fahren Glackin has four hits in her first five at-bats of the season. Junior pitcher Kayla Green has a 1.91 ERA through two appearances and has walked only one batter in 7.1 innings.
BU is led by junior catcher Alex Heinen early in the 2018 season. The San Clemente, California native has eight hits in 16 at-bats, good for a .500 average. Heinen and junior infielder Madi Killebrew, who also has eight hits, have two doubles apiece.
On the mound, freshman pitcher Ali Dubois appeared in all five games last weekend at the Florida Atlantic University Kick-Off Classic and pitched 20 innings. She gave up 18 hits and just two earned runs for an ERA of 0.70.
Waters noted the early success from the middle of her lineup and the success of Ali Dubois on the mound.
"I really like the way Ali [Dubois] came out ready to throw," Waters said. "Alex Heinen and Madi Killebrew in that 3-4 spot [in the batting order] held their own in terms of pitch selection and base hits. With their game plan that they're doing now, we are going to be very successful."