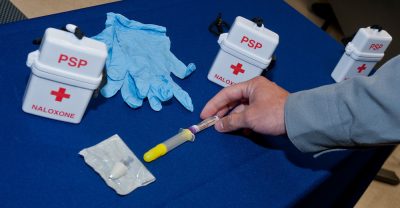 Massachusetts has seen an eight percent decrease in opioid overdose deaths from 2016 to 2017. A recent Department of Public Health report showed estimates that there will be between 433 and 518 more deaths added to the current confirmed 1,501 in 2017.
Overdose death rates in the Commonwealth have been increasing since 2010 — there was a 39 percent increase in 2013-2014, a 30 percent increase from 2014-2015 and a 22 percent increase from 2015-2016. Although opioid-related overdose deaths are still higher than they were 10 years ago, this is still the first time in seven years they have seen a decrease.
Susan Sered, a sociology professor at Suffolk University, said the decrease may not be indicative of a long-term downward trend in opioid overdose deaths. This is because looking at yearly data is not a meaningful way to look at the statistics, Sered said.
"It's too early to call it a trend so we shouldn't get too excited, but the state has been doing a better job, and I think it's a really important direction," Sered said.
According to an analysis this past summer by the state office of Health and Human Services, opioid use disorder is approximately one-third higher in Massachusetts than the national average.
But the state's increasing access to naloxone, or narcan, a medication that reverses an opioid overdose, might be a reason why the rate has decreased in 2017, Sered said.
Gov. Charlie Baker recently announced that Massachusetts Bay Transportation Authority officers will join law enforcement in carrying Narcan. This will help counteract overdose emergencies in T stations that are particularly vulnerable to such incidents, like South Station, North Station and JFK/Umass.
Sered said another important contribution to the recent decrease in overdose deaths is due to the role police are playing by checking drugs that could potentially be laced with fentanyl.
"Law enforcement is trying to find out more about what's going into these drugs, because sometimes the users don't even know," Sered said.  
The drug is currently widely available over-the-counter in pharmacies across Boston and Massachusetts.
Baker said in a press release from the Massachusetts Department of Public Health that he is encouraged by the decrease in overdose deaths and that the passage of his recently proposed "CARE Act" would allow for the continuation of this trend.
"This report is encouraging news that gives us hope that we are beginning to bend the curve of this epidemic," Baker said. "I urge the legislature to pass our CARE Act which expands access to treatment and ask lawmakers to take swift action on legislation to crack down on the fentanyl trade. The data makes clear that we must give law enforcement every possible chance to track down this terrible drug and hold accountable those who sell it."
Christine McLaughlin, 39, of Brighton, said she has seen firsthand how opioid addiction has impacted Boston neighborhoods.
"When I was growing up in South Boston, it was incredible the wave of kids my age who were dying from overdoses," McLaughlin said. "It was such an issue, specifically in that part of the city."
McLaughlin said she believes class disparities could be at play in terms of the communities impacted by opioid use.
"I think that as Boston becomes a wealthier and wealthier city, it might have an effect on the opioid crisis," McLaughlin said. "Not because you're more or less addicted based on how much money you have, but your access to better healthcare could vary based on [your] income."
Sered said to find a long-term solution to the opioid epidemic, there needs to be research into why people choose to abuse drugs they know can kill, especially in particular "hotspot" communities.
"There are particular communities that are hotspots," Sered said. The factors of these communities that drive these communities to self-medicate though are still unclear, she said.  
Christine McInnis, 22, of Fenway, said solving the opioid crisis starts with awareness.
"It definitely has to do with people becoming more aware of the increasing problem, and I think [the state] is helping the police become more prepared."
Nick Snow, 24, of Dorchester, said while he supports measures by Massachusetts to address the opioid crisis, any sort of solution to the opioid problem requires a strong federal response or federal oversight.
"What goes on in Massachusetts is fine, but ultimately, nationally speaking, it's not enough," Snow said.