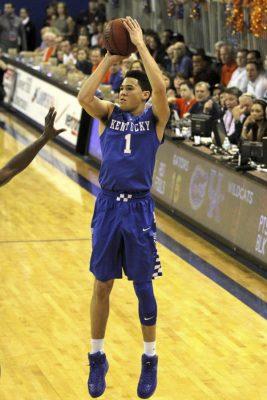 Devin Booker is the NBA's "gluten." No one is exactly sure what the heck he really is, how dangerous he can be, or if they should actually watch out for him.
Booker dropped 70 points in a single game last season, but wasn't selected to an All-Star team this year. He never started a game at the University of Kentucky, but became a regular starter for the Phoenix Suns not even a month after his 19th birthday. He's averaging 24.2 points per game in the 2017-18 season, but looks like he should still be studying for his AP European History test.
It's safe to say the basketball world is confused with what to do with Booker. However, it's time to take him seriously.
The 21-year-old Sun has what it takes to be an MVP-caliber shooting guard in the NBA.
He has an incredible ability to do what's most important in this game — put the ball in the hoop.
As mentioned above, Booker stunned the world when he grabbed 70 points against a defensive powerhouse Boston Celtics squad in March 2017. That's a feat that all-time greats like Michael Jordan, LeBron James and Magic Johnson never even accomplished.
The kid can flat out shoot.
In his third season in the league, Booker is averaging 43 percent shooting from the field, 38.3 percent from three-point range and 88.8 percent from the free-throw line.
This past weekend, Booker proved yet again to the world that he belongs in the conversation with the NBA's most elite shooters.
In the 2018 All-Star Weekend's three-point competition, he totaled 28 points in the final round to snag the win and set the all-time record in the contest. In the championship round, Booker hit 20 of his 25 shots from downtown.
If that's not enough, he became the fourth-youngest player in the NBA to amass 3,000 career points. He trailed LeBron, Kevin Durant and Carmelo Anthony — not the worst players in the world.
Convinced yet? If not, you're somehow not alone. For a player with his resume at his age, Booker still has plenty of doubters who aren't ready to place him in noble company.
In a preseason Bleacher Report article ranking the NBA's best shooting guards, Booker placed 11th, behind role players like Nicolas Batum (12 points per game and 4.7 assists per game) and Kentavious Caldwell-Pope (13 points per game and 4.9 rebounds per game). ESPN.com's annual ranking of players before each season held Booker in 60th place heading into 2017-18.
The Grand Rapids, Michigan native was the only top-15 scorer in the league to not be selected to participate in the 2018 All-Star Game, with 24.2 points per game.
Booker is so much more than just a role player. He would easily be the best player on many teams around the league — the Atlanta Hawks, Sacramento Kings and Chicago Bulls just to name a few.
I confidently believe that Booker will soon evolve into the NBA's next best MVP-level shooting guard. He is set to lead the next generation of ballers.
Some take issue with his youth, which I think is a lame excuse. Being young means less experience, but way more room to build and grow. His potential is outrageous.
Perhaps a more serious issue is his defense.
According to ESPN's Official Plus-Minus tracker, Booker places 479th out of all 488 NBA players in Defensive Real Plus-Minus, a metric calculated based on a player's "estimated on-court impact on team defensive performance, measured in points allowed per 100 defensive possessions."
Although this is a legitimate area of concern, when you are a 6-foot-6 shooting guard in today's NBA, you tend to have to guard some pretty stellar guys. And when your team still has not reached 20 wins before the All-Star break, a positive plus-minus is harder to achieve than squeezing on the BUS at 5 p.m. on a Wednesday.  
Of course, no big-time awards will head in Booker's direction until Phoenix does something about its roster. Just like Kyrie Irving during his Cleveland Cavaliers years before LeBron James returned home, Booker is a true diamond in the rough.
Booker is surrounded by talented, but still B-grade players. Elfrid Payton, Alex Len and T.J. Warren are great and all, but aren't going to help you win championships right now. The Suns need to pull a Danny Ainge and ace this offseason in hopes of building a winning team around their potential MVP in Booker — before he leaves for a team who will.