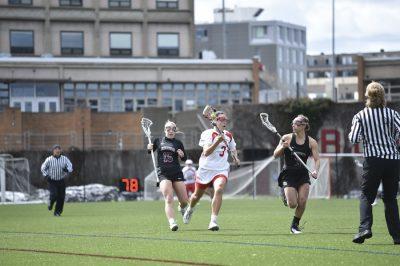 The Boston University women's lacrosse team will be looking to collect its first win of the 2018 season against the University of Massachusetts Lowell Wednesday afternoon.
The Terriers' (0-1) fell in their first game of the season over the weekend to then-No. 4 Boston College 18-6.
The schedule only gave the team three days off to prep for its next match-up, a factor that BU head coach Liz Robertshaw believes emphasizes the importance of moving forward.
"You have to bounce back," Robertshaw said. "You want to look back and fix mistakes from the last game, but you also have to prepare for a very aggressive UMass Lowell team. We try to do both, really focusing on what we need to do to be better at our game."
For Lowell, the home-field tilt will be its first game of the season. The team is looking to improve on its 7-9 overall record from last year.
It will be the program's fourth season as a Division I team, and its first with full eligibility.
The team has increased its goals per game each season, and netted an average of 8.44 goals per game during the 2017 season.
All of the River Hawks' scorers will be returning this season, led by junior attacks Rebecca Idson and Jane Dudley.
In 2017, Idson led the team with 25 goals while Dudley totaled 34 points consisting of 16 goals and 18 assists.
Senior goalkeeper Courtney Barrett has started every game in net for Lowell since the program's inception. Last season, she was third among goalkeepers in the America East Conference in save percentage (.449), saves per game (8.06) and ground balls (39).
When the two teams met last year, BU walked away with 12-7 victory in hand.
Of the eight Terriers who scored in the last face-off, six remain on the roster.
Junior midfielder Kelly Mathews had a multi-goal night both against the River Hawks last year and against BC (3-0) Saturday afternoon.
Senior attack Avery Donahoe and sophomore attack Kailey Conry also contributed against Lowell last season, scoring two goals and one goal respectively.
Against BC over the weekend, Mathews and Conry each scored two goals, while Conry's two assists put her ahead on the team in points with four.
Conry made her scoring potential obvious last season, when she led the team with 68 points coming from 14 goals and a team-high 54 assists.
While Robertshaw believes in the importance of utilizing scorers like Conry, she also highlights tightening up the defensive side of her team's game as a key to success.
"If you looked at the first half [of the BC game], we turned the ball over 12 times and they capitalized on that 10 times," said Robertshaw. "In the second half, we did a bit better defensively, we limited some of their scoring looks and [sophomore goalkeeper Bianca Smith] made some good saves."
Smith, who came in relief during the first half against the Eagles, made 11 saves for a goal save percentage of .478.
Senior goalkeeper Christine Laible started the game in net. Last season, she had a 7.90 goals against average and a .444 goal save percentage in three games.
Co-captain and senior defender Maria Guerra should also be expected to make defensive contributions. She had one ground ball and one caused turnover against BC.
Wednesday's whirl will be only the second time the two programs have faced each other, but Robertshaw is confident her team will be prepared come game time.
"It's definitely a challenge," Robertshaw said on the teams' limited history. "I wouldn't say we're as well-versed in [Lowell] as we are against BC, but we're watching video from the fall and last year to try and see what they're bringing. We have to know their common tendencies, but at the same time, we need to make sure we're promoting our own good tendencies."