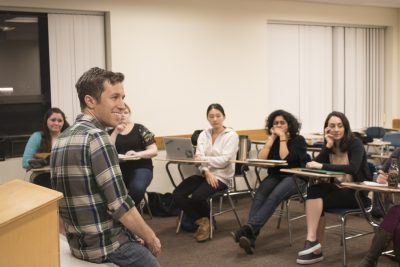 Dave Spandorfer, co-founder of the running apparel brand Janji, spoke at Boston University Tuesday night about the experiences and difficulties of starting his company and answered students' questions about their own ventures.
The open class was held during professor Wendy Swart Grossman's cultural entrepreneurship class at its regular location in the Kenmore Classroom Building, and was attended by graduate students from several different arts-related fields.
Spandorfer explained the ideology behind Janji, and said its business model is based around donating 10 percent of sale prices from all products to provide clean water for countries where people do not have access to it.
"We started Janji as a way to take the give-back that happens on race day and turn it to the everyday run," Spandorfer said. "When you know that you're running for something bigger — you're running for something more — you're able to do things that you never thought you would be able to."
During his presentation, Spandorfer said he received a lot of help from classes similar to that of Grossman's when he was starting Janji, and he hoped students would be able to learn from the mistakes he made when they start working on their own projects.
"Learning from mistakes is always more important than learning from success," he said. "If I can show people what it was like to go through starting Janji while making all those mistakes and still coming out alive [that would be] something special."
Spandorfer said it is usually easiest to make connections and attract investors during one's college career. He encouraged students to use the resources they have while they still have access to them.
Priya Krishnamoorthy, a Metropolitan College graduate student, said she thinks having professionals share their experiences, as opposed to learning from a book, is a useful learning opportunity for students like herself.
"There's only so much a book can teach you or research studies can teach you," Krishnamoorthy said. "Here, the one-to-one interaction is key to understanding how businesses work, and especially when you're trying to understand setting up a business within the creative industry."
Grossman said the event was listed on [email protected]'s calendar because she believes it fit with the initiative's ideology.
Ahlea Isabella, the communications manager at [email protected], explained that the initiative is a university-wide program that gives students and alumni opportunities to learn innovation and entrepreneurial skills, as well as how to use those skills to transform ideas into meaningful and impactful projects.
"The power of [email protected] lies in no one person or program, but in the diverse and vibrant network of skills, concentrations and passions spread out across the university," Isabella said.
Grossman said she and other faculty and administrators act as a funnel between the different colleges, introducing the ideas of innovation and using the facilities BU provides, including the new BUild Lab, to help students delve into their entrepreneurial ideas.
"We really work together very closely to help the students get the tools they need to take their idea and make it into an impactful venture," Grossman said.
Jillian Robertson, a graduate student in the College of Fine Arts, said the lessons she has learned in Grossman's course have been practical to her professional life.
"This class has been one of the easiest to transfer to our jobs and our work lives," Robertson said. "For me, it's very exciting to come to a place where we can actually pitch a project that you actually want to develop later in life."
Lily Meehan, a graduate student in the Metropolitan College, said she thinks the fact that Spandorfer started his business just a few years ago made him very relatable.
"I thought it was really interesting to hear someone who has just gone through the process from the beginning … [and] has seen his project [come] to fruition and whom we can really relate to," Meehan said. "He just started a few years ago as we are now, so it's really inspiring."