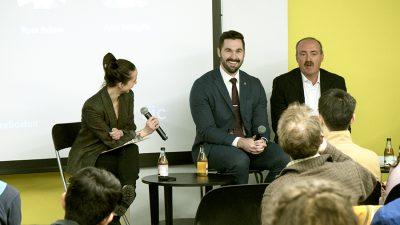 As millennials have become more prominent in the workforce, they have been blamed for "destroying" innumerable American industries, including banking, according to an article from Tech Crunch. But whose fault is it really: the millennials or the banks?
As the age group who grew up surrounded by technology and amid the economic crisis of 2008, millennial attitudes toward banks are different than those of previous generations, according to Max Rofagha, founder of Finimize, a London-based financial news service designed to help younger generations make more knowledgeable monetary decisions.
Friday, Finimize held its first event in the United States. At CIC Boston, a group of young entrepreneurs, new homeowners and progressive bankers met to discuss the future of financial institutions in the United States.
Panelists discussed the transition the industry is currently making: Banks are moving steadily toward executing all money transactions online. In this plan, physical banks would be used as spaces for specialized financial advice rather than places to deposit or withdraw money.
Millennials' growing presence in the workforce has forced older, more traditional institutions to look for new and more creative ways to build relationships with these customers, often prompting a turn toward the internet, according to an article by Business Insider.
Michael Brown, regional manager and vice president for Citizens Bank, said he believes banks are moving more toward changing to fit millennial needs.
"The banks are doing a lot now to meet the needs of millennials," Brown said. "Five or six years ago it was 'this is the offer take it or leave it.' I think now we have this huge educated population, and they are really actively asking for more. So if we want to be competitive in this field we have to meet their needs."
Seventy-one percent of millennials say they'd rather go to the dentist than listen to bankers, according to studies conducted by First Data, a global payment technology solutions company.
In an effort to regain public trust, panelists said, banks have adopted new reforms meant to provide a sense of security not given to customers prior to 2008's recession.
John Battaglia, senior vice president of mortgage operations at The Cooperative Bank, said banks are trying to hold the trust of the public through new policies.
"The banking industry has a lot of new regulations. We now have something called the ability to repay," he said. "We have to show that the customer has the ability to repay a loan. So, I'm not going to give you 20 bucks if you're not going to pay me back. It's the same thing with lending, now there's the ability to repay standard that banks and lenders have to meet."
Morgan Farrar, a sophomore in BU's College of Arts and Sciences, grew up during the 2008 financial crisis. Farrar said she feels there is a generational disconnect between financial institutions and college students.
"I don't think that banks trust college students," Farrar said. "I feel like if I did go into investing in something it would just end up bad for me because of that relationship. Not that it's totally them doing everything wrong, but there's just not a general sense of mutual trust."
In an effort to try and close these gaps, more and more banks have opened up programs catered to student life and needs, like private loans and even college credit cards, Brown said.
He added that building a relationship during a young adult's college years is important for facilitating conversations with financial professionals when issues arise later in life.
"The best recommendation I make for student loans is come see us," Brown said. "Go online, do your research. I know you want to be educated on it, but come hang out with us. If you want to build your credit we have resources to help you do that. We will show you all the different types of loans that we have. Your parents can come along with you or you can do it by yourself."
As the foundations on which banking was built are starting to tremble under the weight of the technological age, panelists said, companies must either adapt or be "destroyed." Meeting the needs of millennials will be key to "avoiding extinction," they said.