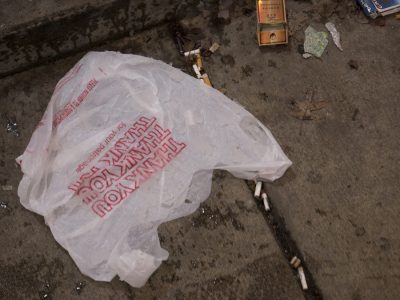 Boston city officials are beginning to discuss how to implement the city-wide plastic bag ban, which requires retailers to charge a minimum of five cents per bag. The ban was signed into law by Mayor Martin Walsh in December.  
During its working session Thursday afternoon, the City Council Committee on Environment, Sustainability, and Parks met with members of the Elderly Commission, Environment Department and the Greater Boston community to consider how to best enforce the ban, educate the public and increase access to reusable bags.
Carl Spector, the commissioner of the Environment Department for the City of Boston, said during the session that the department is analyzing the ordinance for vagueness that may require supplementary regulations. He said he currently does not have sufficient information to provide examples of potential additional regulations.
Kyndal Feinman, chief of staff to City Councilor Josh Zakim, said the Boston Public Library had previously contacted Zakim's office with a concern related to donated plastic bags that may need to be addressed through amendments to the ban.
"We heard from the Boston Public Library this week and they are concerned because they use plastic bags that have been donated to them for their book sales," Feinman said.
They raised the question of if the BPL would have to charge people for distributing books in donated plastic bags, she said.
One section of the ordinance allows select retail establishments to be exempt from the plastic bag ban for one year if its implementation would cause an "undue hardship." Spector said an application process for exemption is currently in the development phase to clarify the section.
In regards to enforcement, some Boston residents have their doubts. Kristine Acevedo, 46, of Dorchester, said she was concerned that there would be strong measures to ensure companies abided by the plastic bag ban.
"I think it'll be interesting to hear … how it's going to be actually implemented," Acevedo said. "Who is going to be checking? Because a lot of times you put things into place, [but] are people just doing the same old same old?"
In regards to enforcement, Spector said the Department of Inspectional Services will likely act as the enforcement mechanism for the ban due to the number of inspectors already working in the department.
The committee also discussed educating the public through a webpage, social media and flyers and other literature. City Councilor At-Large Michelle Wu said the committee should aim to develop final copies of the educational material it plans to use by April so it can direct its attention to distributing that material over the summer.
Representatives of Boomerang Bags Boston, an organization of parents and children who volunteer to sew reusable bags from donated material, addressed concerns about the lack of access to reusable bags for Bostonians who cannot afford to purchase their own bags.
Ann Walsh, an organizer with Boomerang Bags Boston, said during the meeting that the group plans to distribute its first batch of bags to food pantries so low-income individuals will have bags for their regular grocery trips.
"The moms decided that the first round of a thousand bags that have been made by volunteers that we are going to focus on getting those in the hands of food pantries or other distribution points as a first round and then continue to try to get folks to make more bags," Walsh said.  
Another demographic considered during the working session was the elderly. Emily Shea, commissioner for the Elderly Commission, said direct outreach efforts by city councilors through meetings with members of the elderly community would most effectively increase awareness of the ban among seniors.
The ban will officially go into effect Dec. 15.