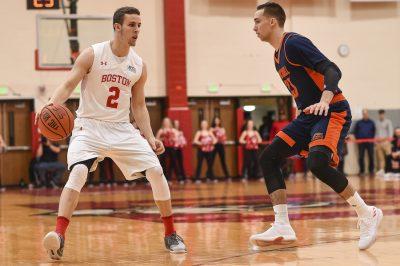 The Boston University men's basketball team ended the 2017-18 regular season on a high note after grabbing a narrow 61-59 win over the United States Military Academy at West Point Saturday afternoon.
A steal from sophomore forward Tyler Scanlon and a drive to the basket from freshman forward Walter Whyte ultimately propelled the Terriers (14-15, 10-8 Patriot League) over the Black Knights (13-16, 6-12 Patriot League).
After a season filled with many injuries, BU head coach Joe Jones credited a lot of the success to his team having a full 10 players in its lineup.
"… When we have everyone back, I don't know what our record is, but it's really good. When we're at full strength, we're a tough team to beat," Jones said. "Tonight, we played as good [of] a half, when we didn't turn the ball over, as anybody could in the country."
Despite posting a season-high 24 turnovers, the Terriers successfully completed their season sweep of Army and will now travel as the No. 5 seed to No. 4 seed Lehigh University for the Patriot League quarterfinals, which begin Thursday night.
Three players on BU's lineup tallied 10 points — senior guard Cedric Hankerson, freshman guard Javante McCoy and Whyte — as the team shot 51.3 percent over the game and limited Army to 31.4 percent.
Scanlon and sophomore forward Max Mahoney also tallied eight points apiece.
"There's nobody [on the team] that I [can] name that couldn't get double figures in the game if the ball is moving and that's why we're good," Jones said. "We have everybody on the floor that can make a shot. We're very unselfish, but it's up to me to make sure we're playing in a rhythm the whole time."
The Terriers began the game on a roll as they netted the first six field goals of the contest, which included four three pointers, to give themselves a 16-5 lead less than six minutes into the half.
BU went 77.8 percent from behind the arc over the first half while Army only converted five of its 19 three-point opportunities.
The Terriers also shot 82.4 percent from the field and limited the Black Knights to 22.2 percent shooting.
"The zone was effective and we went zone late. I thought it helped us get a couple of stops late," Jones said. "We didn't rebound the ball well. That was one of the other areas that I thought hurt us, but overall we did a good job of understanding how we were going to have success on the defensive end against that team."
BU led by as many as 22 points at 7:18 after a jumper from Mahoney.
However, Army went on a 14-4 run to finish the half as it notched three three-point field goals and four points from sophomore forward and center Matt Wilson.
During this run, the Terriers turned over the ball 10 times and 16 times throughout the half.
During the second half, the Black Knights got the score within one after a three pointer from junior guard Jordan Fox at 14:04. They then tied the matchup at 41 with 12:22 remaining.
A three and a layup from McCoy prevented Army from capturing the lead until a layup from freshman forward Alex King put the Black Knights up 50-49.
Both teams went back and forth, with neither getting ahead by more than two points until King made a three pointer to give Army a 59-56 lead with 1:43 left in the game.
Jones said he was "really impressed" by his team's ability to stay focused as the game's intensity increased in the second half.
"… [Army] did a good job of pressuring us and the pressure really got to us and we had a hard time running any offense," Jones said. "When we didn't turn [the ball] over, we missed shots. We were completely out of rhythm and you got to credit Army. They kept fighting and battling and then our guys, they kept going and … it was great to see them not wilter under pressure."
BU chipped at the deficit with two successful free throws from Hankerson. Scanlon then stole the ball from sophomore guard Tommy Funk to regain possession for the Terriers.
Hankerson missed a jumper with 40 seconds remaining and the score within one.
However, Scanlon stole the ball from King. Whyte drove the ball in for a layup and was fouled on the shot by junior guard Jacob Kessler with 11 seconds remaining.
Whyte completed the three-point play with a successful free throw. Funk attempted to knot the score, but missed the layup, giving BU its 10th conference win of the season.
The Terriers have now finished conference play with 10 or more wins for the past nine out of 10 seasons.
"Walt kept driving. He was the one dude that was aggressive off the bounce," Jones said. "At times, I was saying he was a little bit too aggressive, but honestly they were pressuring us so much, that was the only thing we could do."