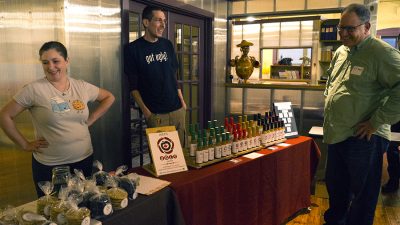 By Archelle Thelemaque
Tea bags aren't just for your hot water anymore.
On Thursday, Sarah Wasser, founder and chief infusion officer of ParTea, an infusion company making tea bags from herbs, spices, vegetables and other plant-like contents such as ginger and jalapeños to infuse into liquor, spoke at The Food Loft as part of its series showcasing successful entrepreneurs in the Boston area.
After spending six years bartending across America, Wasser founded the company in 2016 when she realized how difficult the infusing process can be.
"I would cut open the tea bags and dump the tea content into the gin, let it infuse, and then filter it back through a coffee filter," she said.
After hours of infusing, she realized tea bags would have expedited the process significantly.
Afterward, Wasser began creating ParTea's custom infusions, which make it much easier to "infuse the booze." The infusers work much like regular tea bags, but instead of steeping the bags in hot water, ParTea infusers work best in liquor.
During her talk, Wasser said her target market for the product is millennials looking for an easy way to turn a normal beverage into something fun and flavorful.
After starting the company in 2016, Wasser entered into a start-up competition hosted by Cambridge-based marketing company HubSpot. Her pitch for ParTea won from a pool of 14,000 applicants, and HubSpot awarded her $100,000 to put toward her company.
Wasser said she intends to use her winnings to secure production and work with local tea companies in the Boston area to manufacture the infusers for ParTea. She's also looking to redesign the packing of her infusers and bring ParTea into local bars and restaurants.
Staying local, Wasser said, is important for engaging with customers.
Attending local farmers' markets like the Boston Public Market and the SoWa Open Market have been beneficial for Wasser in meeting fellow food entrepreneurs in Boston. Wasser said the local food market is a smaller community in Boston, so small businesses tend to stay in touch.
Among those she keeps in touch with are Heather Yunger of Top Shelf Cookies and Alex Bourgeois of Alex's Ugly Sauce, whose products were served at the event. All three companies are Boston-based and frequent the local food scene in the city, Wasser said.
The Food Loft is a Boston-based food company, but rather than produce food, they aim to unite people across the industry. The Food Loft is a collaborative workplace where food professionals of all skill levels can work together.
Hannah Martin, manager of community of development at Food Loft, said the company does a lot of workshops and programs for people in the entrepreneur space.
"I would say that [the Food Loft] is mostly focused towards entrepreneurs, and how we [can] help them grow," said Martin. "We focus on how we can sustain entrepreneurs."
The loft hosts events like Wasser's presentation as part of its outreach to food entrepreneurs, with the ultimate goal of developing South Boston's food community, Martin said.
"[The Food Loft brings] a ton of entrepreneurs and startups together and really [helps] to foster that sense of community between the different companies," Wasser said.
Alex Glaze, a 24-year-old working in South Boston, said The Food Loft is working with existing establishments in the neighborhood to build the community.
Martin said events like the Featured Founder series are geared toward inspiring other entrepreneurs, regardless of where they are in the process.
"Wherever you are on the spectrum, we welcome you to come here and hang out, chat with us and kind of see what we can brainstorm and help you come up with," she said.
CORRECTION: The article originally said Wasser spent "six years bartending in Lexington." It should say "six years bartending across America." The current version reflects this.