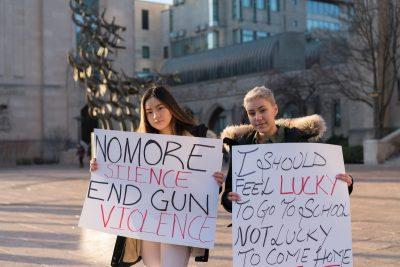 Rachel Metzner was doing chemistry homework when she received the text that diverted her attention to the live coverage of the shooting that took the lives of six of her friends at Marjory Stoneman Douglas High School on Feb. 14.
"I was manic, calling my mom to get information and texting every student I knew there that it would be OK and to remain calm," Metzner said. "But as we all know, it wasn't OK."
Metzner, 18, of Deerfield Beach, Florida, is a freshman at Boston University's College of Arts and Sciences. She was one of the speakers at the BU Rally Against Gun Violence, which drew around 100 people to Marsh Plaza Monday evening.
"PROTECT KIDS NOT GUNS!" and "NEVER AGAIN" were some of the many messages written on signs rally-goers held while listening to speakers share their stories and poems about gun violence.
The rally was organized by Emily Mims, a College of General Studies freshman from Fort Lauderdale, Florida. Mims, whose family has lived in Parkland, Florida, where Stoneman Douglas is located, said she was inspired to host the rally to provide an outlet for people to connect and speak out against unnecessary gun violence.
"One of my friends lost someone that she knew, and I know [that] so many people lost people that they loved and their best friends," Mims said. "I couldn't stay quiet anymore."
Mims said that with the help of her friends, social media and others who contacted her wanting to assist her, she was able to spread the word about the rally to a larger audience.
She reached out to March for Our Lives: Boston, and Julian Diego Lopez-Leyva, its head organizer, said he would not only promote the rally, but speak at it too.
"We are called upon to now rise as the bravest generation and act deliberately in demanding comprehensive gun reform on the state as well as the federal level," Lopez-Leyva said at the rally. "The most supreme threat to our justice is the loss of a life."
Mazin Sayed, a CAS freshman who went to the rally, said he felt compelled to go because he no longer wanted to be idle about his beliefs and wanted to take action personally.
Sayed, who said he felt empowered by going to the rally, said he believed the laws regulating the purchase of firearms in the United States are too lax. The ease of access to weapons, he said, may be what makes it so easy for mass shootings to occur.
"It's obviously easier said than done, but I hope that gun control will be implemented on a more effective basis," Sayed said. "While I do believe in the Second Amendment, I also feel like we need to adapt to our times and that, really, guns shouldn't be as easy as they are to obtain."
Marina Pence, a CGS freshman, also spoke at Monday's rally. From Denver, Colorado, Pence said she knew roughly 40 people who were at the July 20, 2012, Aurora movie theater shooting, and she shared how the event has changed her life.
"To know someone who got shot in the neck is not an easy thing to go through — it's not easy to go to a public area anymore," Pence said. "I haven't been to a movie theater in three years."
She now texts members of her family because she wants to know where they are and that they are safe. She said her generation represents the future and that concrete decisions are made by people who show up and have their voices heard.
"I'm sick and tired of Congress not doing anything," Pence said. "I'm sick and tired of people not making decisions and I'm sick and tired of the NRA."
Sangsoo Lee, a CAS freshman who attended the rally, said he went because his friends were speaking and that he was against gun violence.
Lee, who moved to the United States from Korea roughly six years ago, said shooting incidents seem unusual to him because of Korea's strict laws. Lee said he believes the ease of access to firearms makes it much easier for mass shootings to occur.
The rally ended shortly after 7 p.m. Mims said it would probably not be the last time she organizes an event to combat gun violence.
"I wanted to have this very soon — I couldn't really organize it the way I wanted to," Mims said. "I could definitely see myself doing this again in the future."