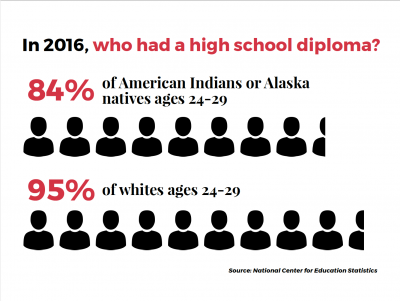 At 7 years old, Kansas Middletent and his twin brother violently brawled as entertainment for their drug-addict father and his friends. They were at a party in their home on a Native American reservation.
"We were taught not to cry," said Middletent, an ambassador and social media and community coordinator for Native Hope. "Growing up on the reservation, you're taught rather to be tough than educated. You're taught to be a fighter."
Wednesday, Middletent spoke at "Movies that Matter: Native America — The Untold Story and short film Legacy," a film screening and discussion organized by Native Hope and hosted by Impact Hub Boston.
Trisha Burke, executive director of Native Hope, said the nonprofit aims to share positive stories and unheard voices coming out of reservations despite disparities that have come to dominate the stereotypes of Native American life.
"There are people of every race who have issues," Burke said. "But the problem is Native Americans take up one percent of the population due to honestly, genocide, that everybody feels that they can't address. Because of that, they really need a ton of support. Because even going to school is an absolutely difficult thing for them."
About 84 percent of American Indians or Alaska Natives ages 24 to 29 had high school diplomas or their equivalent in 2016, according to a study by the National Center for Education Statistics. In the same study, 95 percent of whites had high school diplomas.
Middletent spoke about his personal experience with education. Despite graduating as valedictorian of his class and receiving an athletic scholarship from Dakota Wesleyan University and being selected as a Gates Millennium Scholar, Middletent dropped out of college after his second year trying to balance his roles as a father and a student.
"Unfortunately, I let the negativity of res life consume me," Middletent said. "I was a young parent at the age of 17 trying to fulfill my dreams, and I couldn't do it. I had a lot of things going on at home and had no support system. By my second year of school, my son was born. I had two kids by the time I was 19. I returned from school and gave up my dreams to be a father."
Burke said interest in Native Hope and its message has surged in recent years, possibly because of new technology.
"People are really interested in the things that happened in America's past because of the internet," Burke said. "Because we're able to get our information more quickly, we feel digitally we can get out some very positive stories to start changing the stereotypes."
Raquel Halsey, interim executive director of The North American Indian Center of Boston, attended the event and said she feels a significant amount of people in the Boston community have shown interest in events centering around Native American culture.
"I think it ebbs and flows," Halsey said. "Given the amount of people who live and work here, plus the number of students and researchers in the area, we have a healthy amount of folks who are coming out to events and things."
MMA fighter Nikki Lowe also spoke at the event. "Legacy," a short documentary about Lowe's life, created by filmmaker Mark Lewis, was played for attendees.
"Legacy" documents Lowe's childhood, many health problems, teen pregnancy, close relationship with her family, addiction to alcohol, path to sobriety and eventually her successful career as an MMA fighter. Following the documentary, Lowe spoke about how the hardships of reservation life negatively impact children.
"One of my biggest dreams was to go back to the reservation and be able to do motivational speaking for the kids," Lowe told The Daily Free Press. "To sit there and look at each and every one of those kids and tell them how beautiful they are because knowing how life is there, they don't get told that they're beautiful or handsome or smart."
As a Native Hope fellow, Lowe receives funding from the nonprofit to travel and share her story. She said she hopes to encourage kids she speaks like she was while learning to fight.
"There were these days where I would be in the gym and I would just be crying," Lowe said. "But they knew what I was going through. And they just pushed, 'C'mon work through it, work through it.' I am so thankful for that kind of encouragement. That's the light I want to be for native youth. To have them look at me and see what I've been through and how I overcame it."