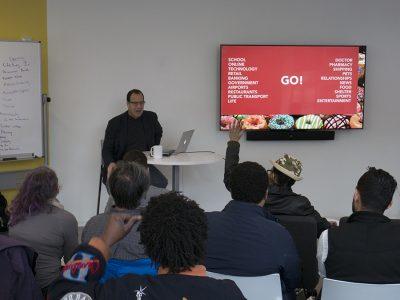 Midway through his Donuts & Design Thinking lecture, Tom Stat proclaimed that design thinking is our only hope to create the future.
The series kickoff event was held Feb. 22 at Boston University's BUild Lab, and featured a presentation by Tom Stat, a graduate of the College of Arts and Sciences, class of 1974.
Stat began his presentation with an exercise, asking the crowd to think of a problem they have. Instead of complaining about the problem, Stat had attendees find an opportunity to innovate. Instead of just griping about the T, Stat encouraged attendees to ask: "What is the future of inner-city transportation?"
This, he said, is what design thinking is.
"Everybody is actually natively creative and a design thinker," Stat said. The mindset, he said, is beat out of you around the second grade, but that design thinking is an innate skill that can be recovered.
During the exercise, an audience member said that nothing ever really changes. Stat disagreed. He said technological evolution is exponential, while human evolution is linear.
Design thinking, Stat said, is generative and paradigm busting. Instead of identifying or solving problems, a design thinker focuses on the opportunities for improvement. He listed Amazon, Google, Starbucks and more as examples of companies that have benefited from design thinking.
"Over and over again we see the leading players are never the innovators," Stat said.
This is because, he said, the leading players are caught up in the paradigm at work, and are too focused on problems in their respective industries to have true insights about it.
"Innovation rarely begins with a problem — it almost always begins with an insight," he said.
The process of design thinking starts with this insight, and then moves to a concept. From there, prototypes are developed rapidly, changing over and over again, he said.
In order to be a successful design thinker, Stat said, one has to be optimistic, courageous and curious, but most importantly, ignorant. Paradigms, biases and assumptions that established thinkers have must be thrown out the window in order to truly innovate. For example, no car service company ever thought of running a car service company without owning any cars –– the business model of Uber.
"My best work was often when I knew nothing about the subject," Stat said.
During his time at BU, Stat majored in social psychology and minored in astronomy. But in all honesty, Stat said, he didn't know what he wanted to do in school — which he argued is good for college students. However, he knew he was interested in both the outer world and the inner world.
"I decided I would get a degree in psychology, focusing on social psychology, because I even at that young age knew that general understanding of human behavior wouldn't hurt and might be the foundation of everything," Stat said in an interview with The Daily Free Press. "Which turned out to be true."
The presentation was geared toward BU students, but many adults from Boston's innovation community attended the presentation, too.
Al Davis, 64, of Brookline, said he was inspired by Stat's presentation.
"I thought that the experience was very validating for what we're trying to do," he said. "It was very cohesive. Even at 64, you can still innovate."
Rachel Spekman, the program director of business ventures at Innovate @ BU, said design thinking gives students and innovators the tools to create meaningful change.
"I think every person on the planet, and every person at BU, wants to feel like they're making an impact and creating value in the world," she said. "And I think that the design thinking tools are truly a way to actually say what matters to me, what am I passionate about, and how can I uniquely contribute to the solution, to the opportunity as Tom said."