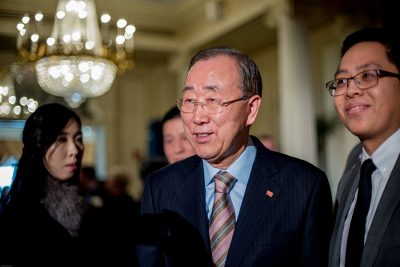 Ban Ki-moon, the eighth Secretary-General of the United Nations, gave an address at the inaugural ceremony for Boston University's Global Development Policy Center on Wednesday at the Frederick S. Pardee School of Global Studies.
Ban discussed some of the current challenges in international development, highlighting climate change, and presented opportunities for the GDP Center to address those challenges.
BU President Robert Brown spoke at the ceremony, saying he was enthusiastic about the future of the GDP Center as a space for collaboration.
"If we created the right platform for collaboration," Brown said, "then we could contribute more effectively to addressing the challenges around the world and better train graduate students to participate in this important work."
Kevin Gallagher, the director of the GDP Center, said during the ceremony that the mission of the center is to advance policy-oriented research on financial stability, human well-being and environmental integrity worldwide.
Graham Dow, a biology professor at BU, said he attended the event to hear Ban's perspective and to aid his own research on plant biology.
"I feel that the focus of the Global Development Center reaches broadly," Dow said, "and I'm always interested in understanding how my research can play into larger aspects of human development and sustainable practices."
During the ceremony, Ban said the GDP Center will be especially beneficial for students in the current era of global change who want to conduct research on impactful contemporary topics.
"The GDP Center is expected to endeavor to promote important policy-oriented research on essential international issues," Ban said. "I'd like to extend my sincere congratulations on this initiative."
Ban said despite the "tempestuous times" the world currently faces, he sees hope in working together for a sustainable future. Ban emphasized youth and women's empowerment movements as signs of hope.
"Much of this progress is grounded in the work of partnership and cooperation to achieve our development goals," Ban said, "and much of this hope is driven by my belief in youth and women empowerment, specifically students, for their future and their action and engagement."
Pardee Dean Adil Najam said he thinks Ban gave the exact right message and that he could not imagine a better person to represent the GDP Center.
"He's such an icon, and United Nations is such a central place, and what he has done there is so central to global development," Najam said. "I think in some ways, he gave a charge to the center and gave us a vision and mission to work on."
Najam said he thinks the GDP Center will be a central element in strategy at Pardee. He hopes the center will become a university hub for all issues related to international development.
Rebecca Cowing, the GDP Center administrator, said she thinks Ban's remarks were relevant to both the GDP Center and the modern world. She said Ban challenged the center to improve its leadership and follow through with its mission.
"We need to connect what we're doing here at the university and at the center to people that can make a difference, like policy makers and the leaders of our cities, our country and the world," Cowing said.
Saliha Agha, a Pardee graduate, said to see Ban speaking at the school was a proud moment for her.
"[The center] is going to really take the level of research that's being done in this institution to new heights," Agha said. "I wanted to be here to witness it — to see what the Secretary-General had to say about this institution and this initiative that BU is taking."
Natasha Patel, also a Pardee graduate, said she found Ban's perspective on climate politics and the current political climate interesting.
"His remarks in general were a very calm approach to the adversity we're seeing in politics right now," Patel said, "but he also focused on the one positive — that is we are seeing a resurgence in grassroots-level involvement, which is really important."
Cowing said the center reached out to a variety of offices across campus for help planning the event.
"Because this is such a big name, we wanted it to be mutually beneficial for the entire university," Cowing said. "So, we called upon the president's office, development and alumni relations, the research office and a lot of other offices to make sure we were covering our bases."
BU spokesman Colin Riley said the opportunity for students to hear directly from Ban Ki-moon was unique, and will aid the work they do once they graduate.
"Having the former Secretary-General, who understands global issues and the role the U.S. can play in them and the educational opportunities for students at Pardee, is really beneficial for these students," Riley said.