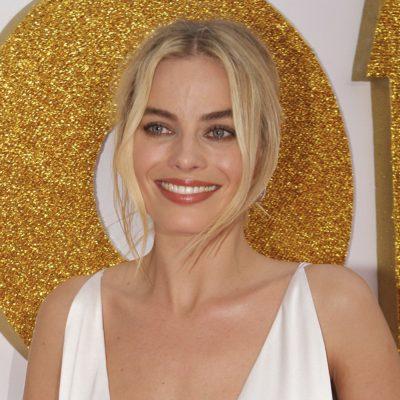 It's 9:30 a.m. and Heidi Munger is at the Cronin Skating Rink in Revere, lacing up her skates. The freshman biology major skates five days a week while balancing a full course load at Boston University.
Munger is an accomplished skater. She's competed at the 2016 Prudential U.S. Figure Skating Championships in the highest level of competition, the senior ladies event. After being named an alternate for the 2017 championships, she was presented with a unique opportunity to show off her skating skills: Hollywood called.
"My coaches knew the choreographer for the movie," Munger said. "At first they said, 'no, you're too tall,' but then they doubled back … the choreographer wanted to have two of us down there because they're long hours — and, if one person couldn't do one of the tricks, just so there was some backup."
When Margot Robbie was cast for the lead in "I, Tonya," there was one problem: She couldn't skate. Growing up in Australia, Robbie has said in interviews there were not really opportunities to do so, and upon moving to Los Angeles, was only involved in ice hockey. But, Tonya Harding, who she was portraying, made a splash in the skating world for two things: the Nancy Kerrigan scandal at the 1994 Olympic trials and landing the notoriously difficult triple axel.
Of the two stunt doubles, Munger said, she was the only one willing to attempt the jump. She cannot do one herself — only one skater even attempted the triple axel the Olympics this year (the double axel is standard).
"They were trying to figure out how they were going to film [it]," Munger said. "So we had a rigging system with a harness and wires, and the other girl, she was like, 'I'm not trying this.' So I'm like, 'OK, I'm going to try this,' and I went up, and the wire smacked me in the eye."
Attempting the triple axel, however, was only part of the job description. Call times were as early as 5:30 a.m. Munger spent the first week learning the choreography, replicating Harding's programs almost exactly. But, despite long and tiring hours, she also had the opportunity to see the behind-the-scenes of making a film.
"Just seeing some of the scenes going over and over and over — because that's something I've never seen before, the behind-the-scenes of a movie, the acting parts — I enjoyed that," she said.
Harding has been one of the United States' most controversial figure skaters ever since the 1994 Olympic trials scandal, in which her husband allegedly hired an attacker to assault Nancy Kerrigan, one of Harding's fiercest rivals at the time. Munger said rendering a judgement about Harding is difficult.
"I can't really say, in a historical sense, what I thought about her, just because I've only seen part of the story," Munger said. "But you can respect her … she had a very challenging upbringing and she's a very talented skater; no one can take that away from her."
The whole experience was, in Munger's eyes, a "whirlwind," from the four weeks in Atlanta to the prescreening in New York and the Los Angeles premiere. It was also a good opportunity for Munger to use her training in a different way, said Lyra Katzman, Munger's friend.
"She was really excited to learn all the choreography and to be doing something new," Katzman said. "In skating … it can get to be a lot of the same, and so when she found out she was going to be doing this movie, she was thrilled that she could … explore a new path of skating."
Katzman, a fellow figure skater and sophomore at Princeton University, said she had known of Munger for a while before officially making Munger's acquaintance during the girls' respective gap years in Boston, where they focused on their skating. Katzman said she quickly noticed Munger's dedication to the sport.
"You can tell, kind of almost immediately, that she genuinely loves skating," Katzman said. "[It's] is hard to come by, I think, in the skating world after skating for so long. She's been skating for over 15 years and she still loves it like it's her first week."
At BU, Munger competes as a member of the figure skating team.
"The figure skating team is very excited to have her as a part of the team," said Andrea Mohns-Brillaud, head coach of BU's figure skating team. "She has really fit in well with everybody."