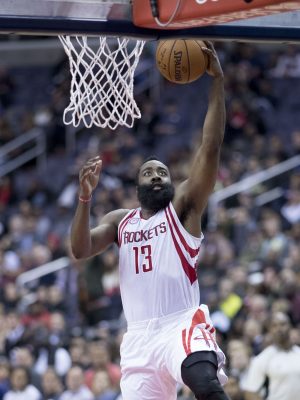 Ever since the Houston Rockets and Los Angeles Clippers met up in the Staples Center Wednesday night, the sports world has been in an uproar. One specific play from that game went instantly viral, but not because of a thunderous slam or a sweet buzzer-beater finish.
Late in the first quarter, Rockets star point guard James Harden drove hard on the left side against Clippers small forward Wesley Johnson. As he reached the elbow, he stopped on a dime, crossovered between his legs and stepped back to the three-point line.
Where was Johnson? Flat on his behind like a confused wrestler who just got RKO'd for the first time. But what Harden did next is really where this story begins.
Instead of just burying the triple right on his defender's dome, Harden hesitated, allowing the whole world to bask in the humiliation that he had just bestowed upon Johnson in his own house. The Beard purposefully waited while Johnson struggled to get up in shame. Finally, Harden let it fly, nailing the tre-bomb.
So nasty, man.
Naturally, sports media and basketball fans all over can't stop talking about it. However, not for the specific technicalities of the move.
Jesse Washington from "The Undefeated" put it best, "Harden has been putting the whole NBA in a blender. It ain't nothing new."
It's the straight cold-blooded pause — which lasted only about a second and a half, but probably a lifetime for Johnson — that I want to focus on. Disrespectful on-court acts like this is precisely what the modern NBA needs.
Fellow millennials, trust me, I've rolled my eyes plenty of times at "oldies" trying to tell me how much "harder" the NBA used to be. I get it, it's annoying. But in a sense, these preachers have a point.
As someone who has been an NBA fan my whole life, moments like these get me fired up — no, not Bill Belichick after a touchdown fired up. Think more Gronk after a touchdown. I know it's immature, but I just can't get enough of this stuff.
Some of the most memorable plays in basketball history come from moments like this. Remember the 2001 NBA Finals between the Los Angeles Lakers and the Philadelphia 76ers?
Then-Philly star Allen Iverson completely annihilated then-Lakers point guard Tyronn Lue, when he had the audacity to literally step over an already ankle-shattered Lue after a crossover. As a Los Angles fan, I can still admit that was the best and most memorable play from that entire series.
Even Lue himself told Howard Beck from "The Bleacher Report," "The Stepover definitely made me famous. The thing with Allen Iverson is, he made me."
Think Dikembe Mutombo. Aside from being a terror at the rim, he is known for his signature finger wag in opponents' faces after he single-handedly denied their dreams of putting basketball in the basket.
I'm not suggesting that professional players should go out there and start fighting each other to gain publicity and draw in extra attention. None of these acts of disrespect that I want to see involve physically hurting another player. That wouldn't be cool.
But in an NBA that is often labeled "soft," a trend in sticking it to the guy across from you would be a really awesome thing to see. It would mean players are going to work each and every day with more passion and pride, things that can be lacking at times.
There are certainly players now who aren't afraid to get in somebody's face: Harden, Steven Adams, Marcus Smart and Enes Kanter to name a few. For most, the trash talking and "beef" they participate in involves squeezing a half-hearted insult into a tweet.
Time for that to change.