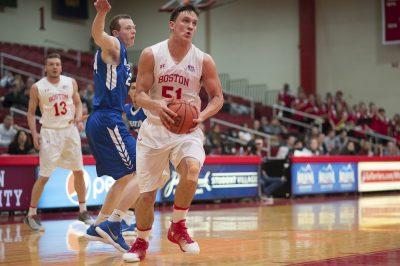 As the Boston University men's basketball team neared the end of its 2017-18 regular season, it had endured a slew of injuries and accumulated a five-game losing streak. However, with the return of freshman guard Walter Whyte, who missed four games due to injury, the Terriers (15-15, 10-8 Patriot League) ended their regular season with two consecutive wins.
BU has now extended that streak to three games after it beat Lehigh University 88-82 on the road in the Patriot League quarterfinals Thursday night.
Sophomore forward Max Mahoney led both teams with 27 points while freshman guard Javante McCoy tallied a career-high 21 points and Whyte neared a double-double with 16 points and eight rebounds for the Terriers.
"We actually went to Max two days ago and met with him and just basically said to him, he's got to give us more," BU head coach Joe Jones said. "As well as he was playing, I just thought he was conserving energy at times and he was playing like a good offensive player, but not doing enough and tonight he took his game to another level. He was sensational."
The Terriers held the Mountain Hawks (16-14, 11-7 Patriot League) to 32 percent shooting from behind the arc, an impressive feat as Lehigh entered the matchup No. 10 in the nation with a 40.9 three-point field goal percentage.
"… They were shooting 50 percent from three, there's no way you can keep shooting like that and we were just hoping we caught them on a cold night," Jones said. "We actually caught them at a good time. This is a terrific shooting team."
BU shot 43.8 percent from three land, with McCoy netting four. The Terriers' offense also went 52.8 percent from the field, which included going 63 percent from the field in the second half.
Despite the Mountain Hawks grabbing a 2-0 lead in the first 20 seconds of the contest after a jumper from sophomore forward Pat Andree, the Terriers led for the entire first half afterward.
Mahoney scored six of BU's first nine points and finished the half with 15 over 11 minutes of playing time.
"Coming into this game, I know it's playoff time," Mahoney said. "It has to be a different mentality, [you have to] step up to the plate and get things done."
Whyte and McCoy contributed six apiece while Lehigh was unable to gain any traction.
The Terriers led by as many as 10 with 6:32 remaining, but finished the half with only a three-point lead at 33-30.
Lehigh's second-leading scorer senior guard Kahron Ross and sophomore guard Jordan Cohen chipped at BU's 10-point lead with five and four points, respectively.
"We knew we had to come out swinging in the second half," Mahoney said. "I thought we played a pretty good first half, we had the lead going in, but again, the game's not over after the first half so we had to come out strong in the second as well."
Mahoney, McCoy and Whyte continued to contribute to the Terriers' offensive spurt in the second half, and BU led by 20 points with 7:29 remaining in the matchup.
The Terriers' kept a double-digit lead over the Mountain Hawks until 1:14 when Cohen got a three pointer.
Lehigh only notched two three pointers in the first half, but bounced back with six in the second half.
Ross kept his team in the game and knocked home two three pointers within 12 seconds.
Cohen got the Mountain Hawks within five with 30 seconds remaining after a layup. However, two missed threes by Lehigh, combined three successful free throws from Whyte and McCoy sealed the win for BU.
The Terriers will return to Pennsylvania once again this week and play Bucknell University in the semifinals on Sunday.
"We went through a tough stretch where we were banged up and we tried to weather the storm and for us, we didn't meet the level of our expectations and that's always to be at the top of the league," Jones said. "We came in fifth and I think our guys were really angry about that and came out and tried to show that they're one of the better teams in our league."