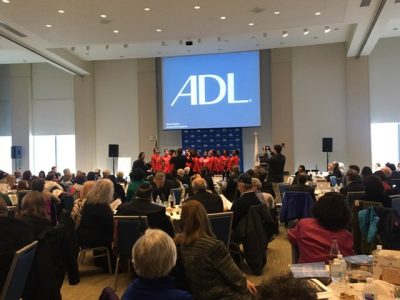 Around 400 people gathered Sunday for a community Seder hosted by the Anti-Defamation League  at the University of Massachusetts Boston Campus Center. Every year, the ADL organizes this community event for the city of Boston to discuss various issues surrounding immigration.
A Seder is a traditional dinner that takes place during the Jewish holiday of Passover, celebrating the liberation of Hebrew slaves from Egypt. The ADL used the holiday as a symbol of a narrative that echoes a narrative of many immigrants who come to America today.
ADL New England Assistant Regional Director Norman Abbott said this year's theme, "A Nation of Immigrants," was chosen to spread a positive message about how immigrants and refugees have contributed to the nation.
Robert Trestan, the ADL New England regional director, opened the gathering by inviting everyone to the Seder table and honoring the diversity of both the community members present and of America as a nation.
"We are united with the immigrants and refugees whose lives are in limbo and whose families have been torn apart," Trestan said. "Diversity means embracing, including and recognizing that America's greatest strength and hope for the future is based on the inclusion of all people, regardless of which journey brought them here."
Saran Chhabra, 52, of Shrewsbury, is an Indian immigrant, and said she has gone to the Seder for the past three years.
"It's beautiful how the Jewish community invites us to take part in the most precious of their holidays," Chhabra said.
Over 20 Massachusetts mayors were present at the Seder to demonstrate their solidarity with immigrants and refugees by publicly signing and reciting a pledge to welcome immigrants and refugees into the Commonwealth and to also reject any bigotry that has entered the conversation on immigration.
"As deportation continues to separate families, as immigrants and refugees are portrayed as criminals and as traditional norms of respecting safe spaces are violated every day, we will never turn our backs on refugees and immigrants even when others do," the mayors read while reciting the pledge.
Cambridge has already taken steps to demonstrate its commitment to this pledge — it was one of the first sanctuary cities in the country and it is currently in discussions about launching a legal defense fund to help immigrants and refugees in the city get the legal help they need to protect themselves and their families.
Navjeet Singh, a Sikh rights activist and past ADL partner, also said he appreciated the community atmosphere of the Seder.
"As immigrants, it is easy to feel isolated, but you come here and you meet with others, which is both supportive, encouraging and reassuring in more ways than one," Singh said.
The keynote speakers at the Seder shared stories about their own contributions to the nation, the journeys that brought them here and their anxieties about their futures in America.
José Palma, an immigrant from El Salvador, spoke at the Seder, listing his accomplishments in his 20 years in the United States, and was met with a round of applause from the audience.
"I have worked as a dishwasher, learned English, volunteered as soccer coach and even graduated from community college with an associate paralegal degree," Palma said. "But most importantly, I have also built my own family."
If nothing changes in the immigration system by September 2019, Palma said he will be undocumented, facing deportation and leaving the life he built behind.
Alma Onate, a Deferred Action on Childhood Arrivals recipient and Harvard University medical student, said she moved to the United States with her family to seek treatment for her sister's glaucoma. When they first approached a doctor, she said he turned down treatment to her 5-year-old sister because their parents were undocumented immigrants.
"This is the story that propels me in my medical career," Onate said during the Seder. "I want to be the kind of doctor that will see anyone and everyone in her office no matter if you are an immigrant, a citizen, white, black, orange or green."
Onate said she urges the community to push the government to pass a resolution on DACA, referencing Congress's inaction on the issue.
Ruth Bernstein, 82, of Winthrop, said she left the Seder with pride in Boston's commitment to offer sanction to immigrants after going to it for the first time.
"Everything there reflected the opposite of what's going on in the country right now," Bernstein said. "It made me real proud of the mayors of the [cities], and to see the immigrants, the diversity and the wide range of ages too."
Trestan concluded the Seder by speaking in solidarity with those affected by current laws and restrictions.
"Despite what the government decides, we are and always will be a nation of immigrants," he said.