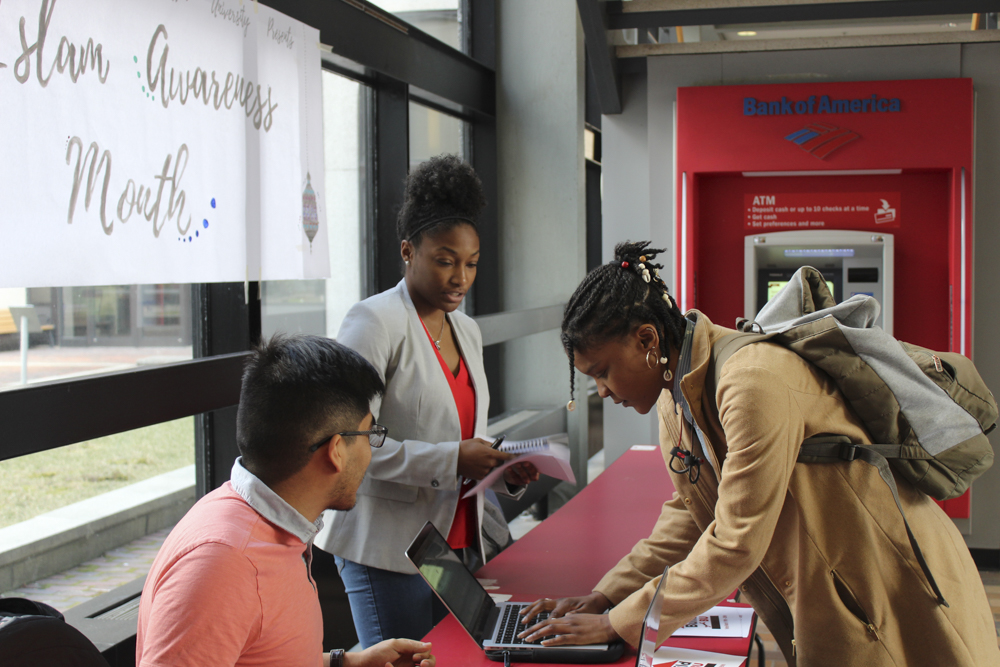 It's that time of year again — Student Government elections.
Boston University Student Government began the election process Monday by presenting the two slates running for the 2018-2019 term during a meet-and-greet at the George Sherman Union.
The two slates, BuildBU and BUnited, are composed of four students each vying for president, executive vice president, executive vice president of finance and executive vice president of internal affairs, said Student Election Commission co-chair Ria Wang.
The two slates, set up at tables at the GSU entrance, handed out flyers and encouraged students to sign up for mailing lists.
BuildBU consists of Devin Harvin, Hafzat Akanni, Hector Meneses and Lovie Burleson. Harvin, the presidential candidate, said their platform centers around three pillars: classroom, culture and communication.
Harvin, a junior in the College of Arts and Sciences, said that while the slate soon plans to announce a more detailed platform in the future, they are focused on getting students excited about the election and increasing voter turnout for now.
"We have things that we really want to accomplish that some people will think [are] going to be difficult," Harvin said, "but we're four very talented people that have connections around the university. We don't think we can't do anything we put our [minds] to at this point."
The other slate, BUnited, includes Kenneth Delatorre, Alexander Diaz, Alexander Meyer and Simran Multani. They said they're hoping to connect colleges within BU to encourage "better intercollegiate communications" and provide "more accessibility [and] a diversification of educational resources for students," Delatorre, BUnited's presidential candidate, said.
Delatorre, a CAS junior, said he hopes to encourage more student interaction within Student Government.
"I think the biggest challenge that we foresee is mainly raising awareness for Student Government," Delatorre said, "because I feel like although we have vast amounts of resources and vast amounts of just potential, we're not really well-known on campus; the resources that we provide are not made available enough to the student body."
While SAR senior Kathleen Coleman is not active in Student Government herself, she said she thinks it is important to get involved, as Student Government acts as a link between the students and the faculty and staff of BU.
"Student Government does a lot on campus to make things more transparent and active between campus decisions," Coleman said.
Some students had suggestions for slate platforms. CAS junior Kathy Chu said she hopes to see improvements in the school's Wi-Fi and the BU shuttle bus system.
"The Wi-Fi's not dependable at all and a lot of people … need the shuttle who have trouble walking and need to be able to get to class on time," Chu said.
SEC co-chair Vincent D'Amato, a freshman in the Sargent College of Health and Rehabilitation Sciences, wrote in an email that the purpose of the meet-and-greet was to allow students to meet the candidates and speak to them all at once. It was also a way for the candidates to inform students about the upcoming election.
"It has also been an event that historically signified the start of the election process," D'Amato said.
D'Amato wrote that voting begins on Monday, March 19 at 9 a.m. and ends at 12 p.m. on Monday, March 26. Students can vote on BU's Student Link.
Dan Starr, a freshman in the College of General Studies, said he feels that getting involved with student government is important, especially for the younger students. He noticed when signing up with his email at BuildBU that he was the only student from the class of 2021 on the list.
"I just hope that whatever they do, they're truthful about it, they're hardworking and they try to get it done," Starr said.